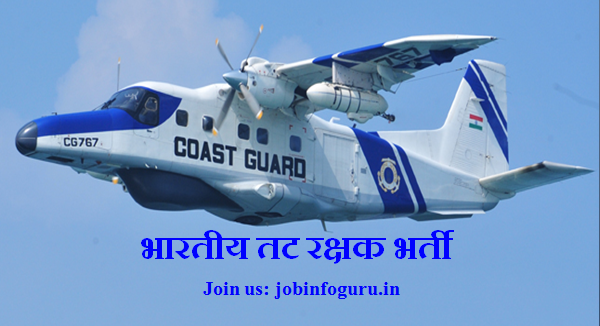 Indian Coast Guard Recruitment Application 2021: नाविक भर्ती 10th पास, Indian coast guard bharti program, Navik Bharti Indian Coast Guard information, date of Online Application, date of written test, date of physical test, date of medical test and selection procedure for recruitment of Navik Indian Coast Guard job info is given in details below.
Eligibility Criteria Indian Coast Guard Recruitment 2021
Age Limit: 18 to 22 years as on 01 Oct 2019.
Age Relaxation: Upper age relaxation of 5 years for SC/ST and 3 years for OBC candidates.
Cut Off Date Age Limit: candidate must  born between 01 Oct 1997 to 30 Sep 2001, both dates inclusive.
Educational Qualification: requirement of education qualification for ICG is 10th Class with 50% marks in aggregate from a board of Education recognized by Central/State Government. (5% relaxation in above minimum cut off will be given for SC/ST candidates and outstanding sports person of National level who have obtained 1st, 2nd or 3rd position in any field sports events at the Open National Championship/ Interstate National Championship. This relaxation will also be applicable to the ward of Coast Guard uniform personnel deceased while in service)
Trade/ Category Navik ICG
(a) Cook:  They would be required to prepare food as per menu (both vegetarian and non-vegetarian including handling of meat products) and accounting of ration. In addition, they will also be allotted other duties for efficient running of organisation.
(b) Steward:  They would be required to serve food in the officer's messes, as waiters, housekeeping, accounting of funds, wine and stores, preparation of menu etc. In addition, they will also be allotted other duties for efficient running of organisation.
वेतन, भत्ते और अन्य लाभ इंडियन कोस्ट गार्ड नाविक 
(a) Pay & Allowances: Starting Basic Pay Scale for ICG Navik (DB) is Rs. 21700/- (Pay Level-3), plus Dearness Allowance and other allowances based on nature of duty/place of posting as per the regulation enforced time to time.
(b) Promotion: Promotion prospects exist up to the rank of Pradhan Adhikari with pay scale Rs. 47600/- (Pay level 8) with Dearness Allowance.
(c) Perquisites अनुलाभ:
Ration and clothing as per rules in vogue.
Free medical treatment for selfand family including dependent parents.
Government accommodation for self & family on nominal license fee.
45 days Earned leave and 08 days Casual leave every year with Leave Travel Concession (LTC) for self, family and dependent parents as per Govt rules.
Contributory Pension Scheme and Gratuity on retirement.
Canteen and various loan facilities.
ECHS medical facilities post retirement.
Selection Procedure Navik ICG
The 'Online' Applications will be sorted out Centre wise. The conduct of test is planned during the month of June/July 2019. The Selection procedure is as follows:-
(a) Short-listing criteria will be based on higher percentage of marks for a particular examination Centre.
(b) The qualifying cut off percentage (%) of a particular Centre may be increased if more number of applications with higher percentage is received.
Syllabus Written Exam Indian Coast Guard
(a) The written examination will be of objective type, which will generally cover subjects Quantitative Aptitude, Mathematics, General Sciences, General English, General Awareness (Current Affairs & General Knowledge) and Reasoning (Verbal & Non-Verbal).
(b) Based on the performance in the written examination, candidates will be shortlisted for medical examination in a ratio as may be decided by the Indian Coast Guard. Mere declaration of fit in initial medical examination does not indicate selection of the candidate for the final medical at INS Chilka.
(c) Those who qualify written examination will undergo Physical Fitness Test (PFT) and Initial Medical Examination (Preliminary). The testing procedure will take 2-3 days. Physically Challenged candidates are not eligible to apply
for this examination.
Physical Fitness Test (PFT) ICG  
(a) For ICG Nawik PFT will be conducted for all those who qualify the written tests. All candidates are advised to be in possession of sport rig (Shoe, T shirt, Trouser etc). The PFT will consist of:-
1.6 Km run to be completed in 7 minutes.
20 Squat ups (Uthak Baithak)
10 Push up. Candidates undergoing PFT will do so at their own risk.
(b) Candidates who qualify the Physical Fitness Test (PFT) will only be required to undergo initial recruitment medical examination at the respective recruitment Centres or any other place as decided by the Indian Coast Guard.
Physical Standard Requirement of Indian Coast Guard Bharti
Medical Test Indian Coast Guard Navik ICG
Final Medical Examination ICG
Initial Medical Examination for recruitment will be considered only "Provisionally fit subject to fitness in the final
medical examination." Final Medical Examination of all selected candidates will be done at INS Chilka. Candidates, who are NOT found medically fit in the final medical examination at INS Chilka, will NOT be enrolled for training. Medically unfit candidates will be returned home at their own expense.
Final Selection Indian Coast Guard Navik
The select list will be prepared from the candidates who qualify in all the tests depending upon the available vacancies. The Zone wise select list of candidates will be displayed in the Indian Coast Guard Website www.joinindiancoastguard.gov.in in the month of Sep 2019. It is clarified that merit list will be zone wise and not centre wise
Travel Expenses SC/ST Candidates
SC/ST candidates, who are not employed by the Central/State Government, will be reimbursed ordinary 2nd class fare by train/ Govt. bus/steamer charges as per central government regulations by the shortest route if the home station is beyond 30 kms from the place of testing, on production of original tickets.
List of Documents Required for Indian Coast Guard Selection
Scrutiny of documents for eligibility will be carried out prior commencement of the written examination. Candidates are, therefore, required to appear at the examination Centre with the following documents:-
(a) Three copies of e-Admit card with latest photograph affixed.
(b) Original Class 10th pass certificate and mark sheet.
(c) Original Caste (if applicable)/ Income certificate for EWSs (Economically Weaker Sections) as per Govt. of India format (No other format will be entertained) available on ICG website.
(d) Domicile certificate of their respective state issued by Tehsildar/Sub District Magistrate / District Magistrate.
(e) Proof of identity such as passport, driving license, Aadhar card/ voter I card, Pan card, School/ college ID card or any other photo identity proof.
(f) In case of reserved category applicants, availing age/percentage relaxation, either current or permanent address of online application should be same as the address mentioned in caste/category certificate (SC, ST & OBC)/Income certificate for EWSs (Economically Weaker Sections). Further in case of OBC, the category certificate should not be more than 3 financial Years old and for such cases renewed/fresh certificate to be produced shall be in original as per Govt. of India format (No other format will be entertained).
(g) Ten recent colour passport size photographs with Blue background.
Indian Navy Recruitment Program 2021
Indian Army Latest Rally Bharti Schedule 2021 Notification
How to Apply Online Application ICG
(a) Applications will be accepted 'Online only' from 05 June to 10 June 2019 till 1700 Hrs. Candidates are to log on to www.joinindiancoastguard.gov.in and click on opportunities button. The important instructions for filling of online application are:-
(i) The Name of the Candidate, Father and Mother's name and date of birth should be mentioned as per 10th class certificate.
(ii) Indicate exact percentage of 10 th class up to two decimals and this is not to be rounded off.
(iii) Filling up of information like personal e-mail ID and mobile number of the candidates are compulsory. The date, time and Centre of the written examination and other information will be informed through Coast Guard Recruitment website www.joinindiancoastguard.gov.in
(iv) The application provides choice of only One Centre for examination. The candidates are to choose Centre from the list mentioned against each state to which he belongs to.
NOTICE: SELECTION IN INDIAN COAST GUARD IS FAIR AND ON MERIT BASIS. CANDIDATE SHOULD NOT FALL PREY TO UNSCRUPULOUS PERSONS POSING AS RECRUITMENT AGENTS. FOR COMPLAINT AGAINST SUCH PERSONS, AGENTS CANDIDATE MUST APPROACH THE DIRECTOR (RECRUITMENT) COAST GUARD HEADQUARTERS, RECRUITMENT CENTER, NOIDA ON TELEPHONE – 0120-2975817