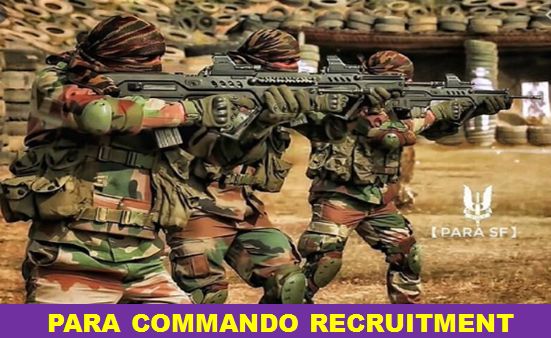 Para Commando selection procedure:- Paramilitary Forces is apparently a semi-militarized force whose institutional format, training, strategy, values, and functions are quite similar to those of professional military, but is directly not part of the Indian Armed Forces. Parachute Regiment consists of PARA and PARA Special Force Battalions. Para Regiment Special Force Selection Procedure, Physical Standard, Physical Efficiency Test, Special Pay and Allowance, PRTC Recruitment, PARA Training, Para Bharti Height, Weight, Chest, Physical Test and other details for information of candidates are given below.
पैरामिलिट्री फोर्सेस स्पष्ट रूप से एक अर्ध-सैन्य बल है, जिसका संस्थागत प्रारूप, प्रशिक्षण, रणनीति, मूल्य और कार्य पेशेवर सेना के समान हैं, लेकिन सीधे भारतीय सशस्त्र बलों का हिस्सा नहीं हैं। पैराशूट रेजिमेंट में PARA और PARA स्पेशल फोर्स बटालियन होते हैं। पैरा रेजिमेंट विशेष बल चयन प्रक्रिया, शारीरिक मानक, शारीरिक दक्षता परीक्षा, विशेष वेतन और भत्ता, पीआरटीसी भर्ती, PARA प्रशिक्षण, पैरा भरती ऊंचाई, वजन, छाती, शारीरिक परीक्षण और उम्मीदवारों की जानकारी के लिए अन्य विवरण नीचे दिए गए हैं।
Recruitment Program Under UHQ Of Parachute Regiment
Unit HQ Quota recruitment for wards of War Widow/ Widow/Servicemen, Ex servicemen and brother of Servicemen/Ex servicemen will held at Para Regt Trg Center Bangalore wef Click Here for Inf Sol GD category as per program given below:-
Additional Monitory Benefits:– Soldier of Para Regiment are entitled to get following additional pay and allowances while deployed/serving with the Special Force Parachute Regiment or Para Battalions:-
1)-Special Force Allowances:- 17,300/- + Pay+Other allowances
2)-PARA Pay (Para Battalion):- 6,000/ + Pay+Other allowances
Para (Special Forces), also known as Para SF, is the special operations unit of the Indian Army connected to the Parachute Regt. There are total 8 Para SF units of the Indian Army, out of which 9th Parachute commando battalion is the oldest. The roots of the Para (Special Forces) goes back to World War II, with the formation of the 50th Parachute Brigade in October 1941.
Selection Process for Recruitment into PARA Regiment:-With a view to recruit motivated and volunteer soldiers into the PARA Regt, following process would be followed with immediate affect :-
PARA Regiment Eligibility:- Successful and eligible candidates those attaining 100% marks in Physical Fitness tests and 50% marks in Written Test and are in merit will be asked to exercise an option of joining the ELITE PARA Regiment by Army Recruiting Offices just prior to their dispatch. These volunteer candidates will be subjected to additional physical efficiency tests for selection for PRTC Training.
Para Regiment Training Test:- Those candidates who have exercised the option of joining the PARA Regiment will have the assurance of joining the already allotted Parent Regiment if they fail to qualify in the special screening tests for PARA Regiment.
Para Regiment Physical Fitness Test:– Volunteers candidates will be subjected to special physical efficiency tests for PRTC Recruitment as stated below:-
Physical Test
Qualification Standard
5 KM Run
To be completed within 20 Minutes
Chin Up
Minimum 14 Chin Up (Beam)
Push Up
Minimum 40 reps to be completed with in 01 minute.
Sit Up
Minimum 80 reps to be completed within 02 minutes.
Mtr Shuttle
To be completed 17 times in 01 Minute.
The selected candidates will be dispatched to PRTC for further training.
Physical standard age, height, weight, chest will be as per area and states.
In case the selected candidates are not able to meet requisite training standards at PRTC, they will be transferred to the parent Regiment for further training.
Join Indian Army Para Commando Notification 2024 – Click Here
Recruitment Rally Para Commando Program 2024
| Para Regt Bharti Event | Program Date |
| --- | --- |
| Preliminary Documen Checking | Being updated soon |
| Physical Fitness Test, Physical Measurement Test Detailed Documentation | Being updated soon |
| Medical Exam of candidates selected in PET/MPT and referral of Medical Unfit castes CH (AF) Bangalore | Being updated soon |
| Issue of Admit Card | Being updated soon |
| Written Exam | Being updated soon |
| Place | AANC Ground PRTC Bangalore |
| Trade/Category | Sol GD |
These are broad guidelines and will be refined once the process is set into motion.
Indian Army Rally Bharti Program 2024
| All India Recruitment Program 2024 | Click Below for Complete Job Information |
| --- | --- |
| UHQ Quota Relation Rally 2024 | Click Here |
| TA Bharti Program 2024 | Click Here |
| Gujarat Gram-Sevak Bharti 2024 | Click Here |
| Rajasthan Forest Guard Bharti 2024 | Click Here |
| Gujarat Anganwadi Bharti 2024 | Click Here |
| Indian Navy SSR & AA Recruitment 2024 | Click Here |
| Goa Police Bharti Program 2024 | Click Here |
| Indian Army Bharti New Syllabus 2024 | Click Here |
| Soldier Selection Procedure 2024 | Click Here |
| Military Recruitment Program 2024 | Click Here |
| Indian Air Force Group C Recruitment 2024 | Click Here |
| Indian Navy Sports Quota Bharti Program | Click Here |
| Responsibilities of Zila Sainik Board/ Zila Sainik Welfare Offices | Click Here |
| Para Commando Selection Process 2024 | Click Here |
| UP Helpline Contact Number All Districts | Click Here |
| Military Nursing Service MNS Notification 2024 | Click Here |
| Gujarat Police Recruitment 2024 | Click Here |
| Indian Navy Tradesman Bharti 2024 | Click Here |
| UP Police SI Bharti 2024 | Click Here |
| UP Anganwadi Bharti 2024 Application Form 53000 Post | Click Here |
| | |