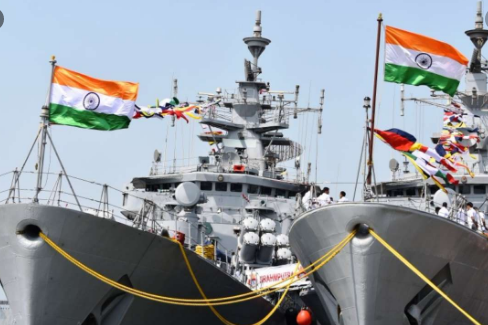 Indian Navy Tradesman Recruitment 2021-2022:- Indian Navy (Nausena Bharti) has Recently Invited to Online Application Form for the Post of Tradesman Mate (1159 Post) Recruitment 2021-2022. Those Candidates Who are Interested to this Vacancy and Have All Eligibility Criteria Can Read the Full Notification Before Apply Online.
भारतीय नौसेना ने अपनी आधिकारिक वेबसाइट @ joinindiannavy.gov.in पर पूर्वी, पश्चिमी और दक्षिणी नौसेना कमान में ट्रेड्समैन के 1159 रिक्त पदों की घोषणा की है। एक ऑनलाइन आवेदन 07 मार्च 2021-2022 है। चुनाव एक कंप्यूटर आधारित टेस्ट के माध्यम से किया जाता है जिसमें 100 अंक होते हैं।
Indian Navy Tradesman Mate Recruitment Program 2021-2022
Indian Navy Tradesman Mate Bharti Program 2021
Post Name
Tradesman Mate
Total Vacancies
1159 Posts

Starting Date
22-02-2021
Closing Date
7-3-2021
Admit Card Date
72 Hours Before Exam
Application Mode
Online
Selection Process
Written Test/ Interview
Exam Date
20-03-2021 to
21-03-2021
Age Limit
18 to 25 years
Age Relaxation
Age relaxation is applicable as per rules.
Total Vacancies
1159 Posts
Official Website
joinindiannavy.gov.in
Indian Army Relation Bharti Program 2021
Click Here
Indian Navy Tradesman Mate Bharti Vacancies 2021
Category
Vacancies
Eastern Naval Command- 710 Posts
General
303
SC
116
ST
57
OBC
163
EWS
71
Western Naval Command- 324 Posts
General
133
SC
48
ST
24
OBC
87
EWS
32
Southern Naval Command- 125 Posts
General
57
SC
16
ST
02
OBC
37
EWS
13
Total Vacancies
1159
Indian Navy Tradesman Recruitment Eligibility Criteria
Educational Qualification: Candidates holding 10th pass qualification along with a certificate from a recognized Industrial Training Institute (ITI) are eligible to apply.
शैक्षिक योग्यता: किसी मान्यता प्राप्त औद्योगिक प्रशिक्षण संस्थान (आईटीआई) से प्रमाण पत्र के साथ 10 वीं पास योग्यता रखने वाले उम्मीदवार आवेदन करने के लिए पात्र हैं।
Age Limit For Indian Navy Tradesman Mate
1:- Minimum – 18 Years
2:- Maximum – 25 Years
3:- Age Relaxation (Upper Age Limit) – As Per Rule
Examination Fee:- The application fee for the form is Rs. 205. However, the payment transaction charges will be applicable to the same. The application fee can be submitted in the following ways:
1. Debit Card
2. Credit Card
3. Net Banking
4. UPI
For SC/ ST/ PwBDs/ Ex-Servicemen & Women: NIL
For Other: Rs. 205/-
परीक्षा शुल्क:- फॉर्म के लिए आवेदन शुल्क 205 रुपये है। हालांकि, भुगतान लेनदेन शुल्क उसी पर लागू होगा। आवेदन शुल्क निम्नलिखित तरीकों से जमा किया जा सकता है:
1. डेबिट कार्ड
2. क्रेडिट कार्ड
3. नेट बैंकिंग
4. ऊपीआई
Indian Navy Tradesman Mate Selection Process:- The selection of the candidates will be done on the basis of screening of applications, written exam and document verification. The scheme of the exam is as follows.
भारतीय नौसेना ट्रेडमैन मेट चयन प्रक्रिया:- उम्मीदवारों का चयन आवेदनों की स्क्रीनिंग, लिखित परीक्षा और दस्तावेज़ सत्यापन के आधार पर किया जाएगा। परीक्षा की योजना इस प्रकार है।
1)- Application Form Screening: First of all, all the application forms are screened and the eligible candidates are called for a written exam. The candidates must fulfill the eligibility criteria and terms and conditions specified by the Government of India from time to time.
1)- आवेदन पत्र स्क्रीनिंग: सबसे पहले, सभी आवेदन पत्रों की जांच की जाती है और योग्य उम्मीदवारों को लिखित परीक्षा के लिए बुलाया जाता है। उम्मीदवारों को समय-समय पर भारत सरकार द्वारा निर्दिष्ट पात्रता मानदंडों और नियमों और शर्तों को पूरा करना चाहिए।
2)-Written Examination: The written exam consist of MCQ type questions. It is an online exam of 100 questions of 1 mark each. The question paper consists of objective type questions as per the syllabus.
2)- लिखित परीक्षा: लिखित परीक्षा में MCQ प्रकार के प्रश्न होते हैं। यह प्रत्येक 1 अंक के 100 प्रश्नों की एक ऑनलाइन परीक्षा है। प्रश्न पत्र में पाठ्यक्रम के अनुसार वस्तुनिष्ठ प्रकार के प्रश्न होते हैं।
3)- Medical Examination: The candidates who clear the written exam are called for medical examination. The candidate is checked on various basis such as hearing capacity, eye test etc.
3)- मेडिकल परीक्षा: लिखित परीक्षा को पास करने वाले उम्मीदवारों को मेडिकल परीक्षा के लिए बुलाया जाता है। उम्मीदवार को विभिन्न आधारों जैसे श्रवण क्षमता, नेत्र परीक्षण आदि के आधार पर जांचा जाता है।
4)- Document Verification: The candidates who clear the medical examination and written test are called for document verification as final criteria of selection. The candidates who are unable to produce documents as per requirements are eliminated from the selection process.
4)- दस्तावेज़ सत्यापन: मेडिकल परीक्षण और लिखित परीक्षा को पास करने वाले उम्मीदवारों को चयन के अंतिम मानदंडों के रूप में दस्तावेज़ सत्यापन के लिए बुलाया जाता है। जो उम्मीदवार आवश्यकता के अनुसार दस्तावेजों का उत्पादन करने में असमर्थ हैं, उन्हें चयन प्रक्रिया से हटा दिया जाता है।
INCET Syllabus 2021-2022:- Following is the syllabus of INCET Tradesman Recruitment 2021-2022:
General Intelligence and Reasoning – Questions related to Mathematical operations, Series, Odd One Out, Logical Venn Diagrams, Analogy, Word-Based Problems, Problems Solving, Drawing Inference, Coding-decoding, Non-Verbal Reasoning etc topis will be asked.
जनरल इंटेलिजेंस एंड रीजनिंग – गणितीय संचालन, श्रृंखला, विषम वन आउट, लॉजिकल वेन आरेख, सादृश्य, शब्द-आधारित समस्याएँ, समस्याएँ सुलझाने, ड्राइंग-निर्धारण, कोडिंग-डिकोडिंग, गैर-मौखिक तर्क आदि टॉपिस से संबंधित प्रश्न पूछे जाएंगे।
Quantitative Ability – This paper will include questions related to Number Systems, Time & Work, Mensuration, Ratio and Proportion, Average, Profit and Loss, Discount, Percentage, Time and Distance, Simple and Compound Interest, statistical Chart, Trigonometry, Geometry etc topics.
क्वांटिटेटिव एबिलिटी – इस पेपर में नंबर सिस्टम, टाइम एंड वर्क, मेंसुरेशन, रेश्यो और प्रॉपर, एवरेज, प्रॉफिट एंड लॉस, डिस्काउंट, परसेंटेज, टाइम एंड डिस्टेंस, सिंपल एंड कंपाउंड इंटरेस्ट, स्टैटिस्टिकल चार्ट, ट्रिगोनोमेट्री, ज्योमेट्री आदि से संबंधित प्रश्न शामिल होंगे। ।
General English & Comprehension – Topics related to vocabulary, grammar, sentence structure, synonymous, antonyms, comprehension and its correct usage etc will be asked.
सामान्य अंग्रेजी और समझ – शब्दावली, व्याकरण, वाक्य संरचना, पर्यायवाची, विलोम, समझ और इसके सही उपयोग आदि से संबंधित विषय पूछे जाएंगे।
General Awareness – The examination will include questions relating to India and its neighboring countries especially pertaining to sports, history, culture, Geography, Physics, Chemistry, Computer Science, Environmental Science, Economics, Current Events, General policy including Indian Constitution and scientific research etc.
सामान्य जागरूकता – परीक्षा में भारत और उसके पड़ोसी देशों से संबंधित प्रश्न शामिल होंगे, विशेष रूप से खेल, इतिहास, संस्कृति, भूगोल, भौतिकी, रसायन विज्ञान, कंप्यूटर विज्ञान, पर्यावरण विज्ञान, अर्थशास्त्र, वर्तमान घटनाएँ, सामान्य नीति, भारतीय संविधान और वैज्ञानिक अनुसंधान आदि से संबंधित।
Following is the exam pattern of INCET 2021-2022
Indian Navy Tradesman Bharti Exam Pattern 2021
Subjects
Marks
General Intelligence & Reasoning
25
Numerical Ability/ Quantitative Ability
25
General English & Comprehension
25
General Awareness
25
Total Marks
100
Mode of Examination: Online computer-based test
No. of Questions: 100 questions
Type of Questions: MCQ type only
Marking scheme: Each answer will be given 1 marks each.
Exam Centre:- The exam centre is allotted to the candidate and is communicated through SMS or mail. The candidates can choose 3 cities for the exam centre while filling the application form and the exam centre will be allotted in them only. No request for a change in the exam centre will be entertained by the authorities once the exam centers are allotted.
परीक्षा केंद्र: – परीक्षा केंद्र उम्मीदवार को आवंटित किया जाता है और एसएमएस या मेल के माध्यम से सूचित किया जाता है। उम्मीदवार आवेदन पत्र भरते समय परीक्षा केंद्र के लिए 3 शहरों का चयन कर सकते हैं और परीक्षा केंद्र केवल उन्हीं में आवंटित किया जाएगा। परीक्षा केंद्र आवंटित होने के बाद अधिकारियों द्वारा परीक्षा केंद्र में बदलाव का कोई अनुरोध नहीं किया जाएगा।
Pay Scale:-The tradesman mate is classified as Group 'C', 'Industrial' at various Commands. The pay scale of Tradesman mate is grade-I of 7th CPC of Rs.18000- 56900/-.
वेतनमान: -इस ट्रेडमैन मेट को विभिन्न कमांडों में ग्रुप 'सी', 'इंडस्ट्रियल' के रूप में वर्गीकृत किया गया है। ट्रेड्समैन मेट का वेतनमान Rs.18000- 56900 / – रुपये के 7 वें CPC का ग्रेड- I है।
Notification-Indian-Navy-Tradesman-Mate-2021-2022
Indian Army Rally Bharti Program 2021-2022
| All India Recruitment Program 2021-2022 | Click Below for Complete Job Information |
| --- | --- |
| UP Anganwadi Bharti 2021 Application Form 53000 Post | Click Here |
| AP Recruitment 2021 | Click Here |
| All Inda Bharti MDL 2021 8th, 10th & 12th Pass | Click Here |
| All Indian ICG Bharti Program 2021 | Click Here |
| ITBP Recruitment Program 2021 | Click Here |
| Indian Navy SSR & AA Recruitment 2021 | Click Here |
| Goa Police Bharti Program 2021 | Click Here |
| Gujarat Police SI, PSI, Constable Bharti Program 2021 | Click Here |
| Indian Army Bharti New Syllabus 2021-2022 | Click Here |
| Soldier Selection Procedure 2021-2022 | Click Here |
| Military Recruitment Program 2021-2022 | Click Here |
| Indian Air Force Group C Recruitment 2021-2022 | Click Here |
| Indian Navy Sports Quota Bharti Program | Click Here |
| Indian Army JAG Entry Scheme 2021-2022 | Click Here |
| Responsibilities of Zila Sainik Board/ Zila Sainik Welfare Offices | Click Here |
| Para Commando Selection Process 2021 | Click Here |
| UP Helpline Contact Number All Districts | Click Here |
| Military Nursing Service MNS Notification 2021 | Click Here |
| MES Draughtsman & Supervisor Recruitment 2021 | Click Here |
| RPSC Rajasthan SI & Platoon Commander Recruitment 2021 | Click Here |
| Gujarat Police Recruitment 2021 | Click Here |
| Bihar Police Fireman Recruitment 2021 | Click Here |
| Indian Army 10+2 (TES-46 Jan 2022) Recruitment 2021-2022 | Click Here |
| Indian Navy Tradesman Bharti 2021 | Click Here |
| HAL ITI Trade Apprentice Recruitment 2021 | Click Here |
| Indian Army TGC 133 Recruitment 2021 | Click Here |
| Indian Army 10+2 TES 45 Entry Scheme 2021 | Click Here |
| UP Police SI Bharti 2021 | Click Here |
| | |
| | |