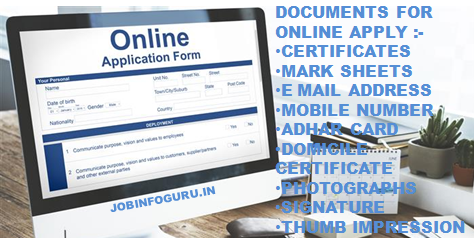 Indian Army Online Application/Registration Documents List: Online Application List of  Documents Army rally bharti Soldier GD, Clerk, Tech, NA, RT JCO, Tdn, Hav, Auto Carto document required for online registration/online application.  Candidates are advised to complete following documents before Online Application/Online Registration for Army Recruitment Rally Bharti.
How to Fill Up Online Application Join Indian Army:  The following details will be filled strictly during online registration for army recruitment rally bharati as per High School/Matric/10th Certificate:-
Candidate Name
Father Name
Mother Name
Date of Birth
Matric Certificate number as issued by Education Board.
List of Document Online Registration of Application Indian Army
Adhar Card: Name/Date of Birth must be same as per Aadhar Card/10th Certificate/Domicile Certificate/Relation Certificate.
Valid E mail address: Each candidate is required to have personal Email Id which will be his user Id. All messages will be sent to the Email Id regarding Short Listing, Call Ups, Joining Instruction, Results, etc.
Mobile Number – Each Candidate will be required to have an individual mobile number. Sharing of mobile number between candidates will not be permitted. OTP key and other message will be sent to mobile number.
Domicile Certificate: Details about your State, District and Tehsil/ Block of Domicile (Only for JCO / OR Enrolment Online Application).
Photograph 10 Kb to 20 Kb: Scanned passport size photo of size between 10 Kb to 20 Kb in jpg format. This photo will be uploaded on the application form.
Photograph 5 Kb to 10 Kb: Scanned photo of signature of size between 5 Kb to 10 Kb in jpg format. This photo will be uploaded on the application form.
Education Certificate/Mark Sheet: Detailed mark sheet of Class X, XII Class and other higher education qualification, required to be filled in the application form as per the eligibility criteria of the category/entry applied for. Above documents are to be prepared before filling up online application form for army recruitment rally bharti.
Signature/Thumb Impression: Signature and thumb impression will be required to be taken at the time of submission of online registration/application form for join Indian army recruitment rally.
सेना भर्ती दस्तावेज सूची – List of Documents for Army Recruitment Rally – Click Here
Defence Job Info Schedule 2023
Indian Army Age Limit Soldier Category – Trade Wise 
Army Rally  Latest Bharti Schedule 2023
Search Links: Sena me online aavedan ke liye dastavej. army join karne ke liye documents, kagjaat, dastavej. Online application important documents for Soldier GD, Tech, NA, Tdn, JCOs/OR. Which documents are required for army online application. Army bharti ke liye jaruri dastavej. Army Bharti Notification documents.
Note: Candidates are advised to read the above information in their own language by clicking on the Top Left corner under column "Select Language" for easily understanding about Online application procedure and documents required for join Indian Army for army job in the following language:-
भारतीय सेना में ऑनलाइन आवेदन के लिए आवश्यक दस्तावेज
Bhartiya sena me online aavedan ke liye avashyak dastavej- Hindi
List of Documents required for online application in the Indian Army – English
بھارتی فوج میں آن لائن درخواست کے لئے دستاویزات کی ضرورت ہے – उर्दू
भारतीय सेनामा अनलाइन अनुप्रयोगको लागि दस्तावेज आवश्यक छ – नेपाली
ਭਾਰਤੀ ਸੈਨਾ ਵਿਚ ਆਨ ਲਾਈਨ ਅਰਜ਼ੀ ਲਈ ਲੋੜੀਂਦੇ ਦਸਤਾਵੇਜ਼ – पंजाबी
ભારતીય સૈન્યમાં ઑનલાઇન અરજી માટે જરૂરી દસ્તાવેજો – गुजराती
भारतीय लष्करात ऑनलाइन अर्जासाठी आवश्यक कागदपत्रे – मराठी
ಭಾರತೀಯ ಸೇನೆಯಲ್ಲಿ ಆನ್ಲೈನ್ ​​ಅರ್ಜಿಗೆ ಅಗತ್ಯವಾದ ದಾಖಲೆಗಳು – कन्नड़
భారతీయ సైన్యంలో ఆన్లైన్ దరఖాస్తు కోసం పత్రాలు అవసరం – तेलगू
இந்திய இராணுவத்தில் ஆன்லைன் விண்ணப்பத்திற்கு தேவையான ஆவணங்கள் – तमिल
ഇന്ത്യൻ സൈറ്റിൽ ഓൺലൈൻ അപേക്ഷയ്ക്ക് ആവശ്യമായ രേഖകൾ – मलयालम
ভারতীয় সেনাবাহিনীতে অনলাইন আবেদন করার জন্য প্রয়োজনীয় নথিপত্র – बंगला