Army Bharti  Online Application Form Registration Army Bharti
: आर्मी भर्ती के लिए ऑनलाइन आवेदन कैसे करें. Date of Online Registration of Application to join Indian Army ARO Wise Application Form for all Zone. सेना भर्ती कार्यालय ऑनलाइन आवेदन भर्ती प्रक्रिया. How to fill up online application/ registration to join Indian army. Online Registration/ Application procedure for soldier recruitment open rally bharti complete ARO of Indian Army/ HQ Zone. Online registration/ application form date Sol GD, Sol Clerk, Sol SKT, Sol Tech, Sol NA, Sol Tdn, Sol Pharma, Sol Avn & Amn, Surveyor, RT JCO of ARO/ district/ State/Zone. Sena bharti online application  all AROs of Army Zones. Sena Bharti Samachar Indian Army ARO/ Army Zone.  Military/ army rally bharti application news Army Recruiting Office(AR)/ HQ Rtg Zone given below. how to apply Indian army rally bharti form:
Indian Army Online Application Form 2023 How to Apply to join Army Rally Bharti
Submission Online Registration Application Form to Join Indian Army ARO/ HQ Army Zone for soldier category/Trade:-
Soldier General Duty online registration
Soldier Clerk & SKT online registration
JCO Catering (ASC) online registration
Soldier Tradesmen online registration
Soldier  Tech Amn online registration
Nursing Assistant online registration
Soldier Technical online registration
Hav (SAC) Engrs online registration
Sepoy Pharma online registration
JCO RT online registration
How to Fill up Online Application/Registration to Join Indian Army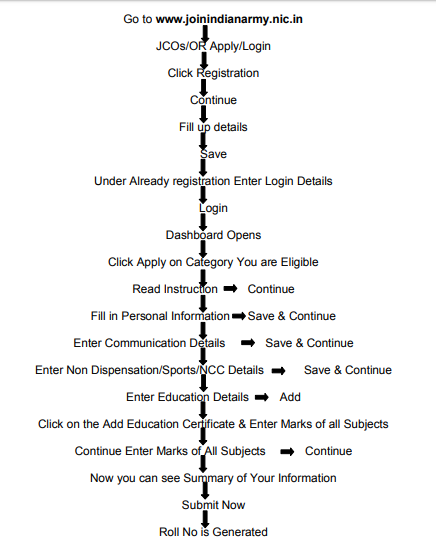 वैधानिक चेतावनी: भारतीय सेना में भर्ती होने वाले आवेदकों को सलाह दी जाती है कि किसी भी बिचौलिये के बहकाने में न आएं। सेना की भर्ती पूर्णतयः निःशुल्क होती है, आप की किसी भी प्रकार से कोई मदद नहीं कर सकता है, आप की कड़ी मेहनत ही आप का साथ दे सकती है अतः अपने माता पिता की गाढ़ी कमाई का पैसा किसी दलाल को न दें।
How to Fill Online Form for Army Bharti ऑनलाइन सेना भर्ती फॉर्म 

आर्मी भर्ती ऑनलाइन आवेदन पत्र भरने के लिए महत्वएपूर्ण दिशा-निर्देश
सर्वप्रथम ध्यायनपूर्वक, पंजीकरण करने के लिए दिए गए सभी दिशा-निर्देशों को पढ़ें और उसके बाद आगे की प्रक्रिया करें।
भारतीय सेना में शामिल होने के लिए अपनी नौकरी पात्रता की जांच करें और उसके बाद पंजीकरण करें। पात्रता मानदंड जानने के लिए यहां क्लिक करें। Eligibility Criteria Click Here
अगर आप नए उपयोगकर्ता है तो पंजीकरण टैब पर क्लिक करें। क्लिक करते ही पंजीकरण तालिका विंडो खुल जाएगी और उस आवेदन पत्र में दिए गए सभी स्थानों को भरना होगा।
अपनी सभी व्यक्तिगत जानकारी ठीक उसी प्रकार दें, जिस प्रकार मैट्रिक प्रमाण पत्र में दी हों। (जैसे- अपना नाम, जन्म तिथि, पिता का नाम, माता का नाम और शैक्षिक योग्यता )
अभ्यर्थी सुनिश्चित करें कि पंजीकरण प्रक्रिया के दौरान दिया जाने वाला फोन नंबर और ई-मेल, पूर्णत: निजी और चालू होनी चाहिए। दूसरों की ई-मेलआईडी या फोन नंबर देना सख्त वर्जित है।
सुनिश्चित कर लें कि सभी जानकारियों को सही तरीके से भर दिया गया है और उसके बाद, सेव टैब पर क्लिक करें।
सेना की वेबसाइट पर एक बार आपका पंजीकरण हो जाने के बाद, आपकी ई-मेलआईडी और मोबाइल नंबर पर एक वनटाइम (OTP) पासवर्ड भेजा जाएगा।
इसके बाद, सफल पंजीकरण करने के लिए उस ओटीपी को दर्ज कर दें और तत्पश्चात ही अभ्यर्थी की प्रोफाइल, सेना की प्रणाली द्वारा बनाई जाएगी।
विभिन्न प्रविष्टियों के लिए ऑनलाइन आवेदन करते हेतु सभी अभ्यर्थियों के लिए पंजीकरण प्रक्रिया अनिवार्य है।
पंजीकरण प्रक्रिया के बाद आपकी ई-मेल आईडी ही आपका उपयोगकर्ता नाम/यूजरनेम होगा, लेकिन अभ्यणर्थियों को अपना पासवर्ड स्वयं ही रखना चाहिए (जो कि दस अंकों से अधिक नहीं होना चाहिए)। सभी अभ्यार्थियों को सलाह दी जाती है कि वे अपना उपयोगकर्ता नाम और पासवर्ड याद रखें।
अगर वेबसाइट पर आपका एकाउंट पहले से ही है तो आप, अपना उपयोगकर्ता नाम और पासवर्ड डालकर लॉगिन कर सकते हैं। इसके बाद, आपका प्रोफाइल पेज खुल जाएगा और आप स्क्रीन पर अपने डैशबोर्ड को देख सकते हैं।
पंजीकरण/लॉगिन पेज के लिए "जारी रखें" पर Click करें।
ARO Army Bharti Online Application & Recruitment Open Rally Bharti 
 Important Instructions to Fill Online Application Form to Jon Indian Army 
Read all the instruction for registration carefully and then proceed further.
Check your Job Eligibility for joining Indian Army as an officer and then Register. For Eligibility Criteria Click Here
If you are a new user, Click on registration Tab. Registration table window will open and fill up all the fields in the registration form.
Fill in all your personal details strictly as given in your matriculation Certificates. (I.e. Your Name, DOB, Father Name & Educational Qualification.)
Candidate must ensure that Email Id and mobile No entered at the time of registration process are active and unique. Sharing/Usage of Email Id /Mobile no of friends is strictly prohibited.
Ensure all the field are filled in correctly and then click on save tab.
Registration process is mandatory for all the candidates to apply online for various Entries.
By default your Email Id will also be your user name but candidate must select their own password (Not more than 10 Characters). All Candidates are advised to remember their user name and password.
If you are an existing User/Already Registered on your website you can login using your User name and Password.
Thereafter your profile page will open and you can view your Dashboard on the screen.
Click on Continue to go to Registration/Login Page.
भारतीय सेना भर्ती समाचार 2023

– CLICK HERE
All India ARO Army Rally 2023 – Click Here
All India Army Open Rally Program UHQ Quota 2023  – Click Here
Online Registration of Application from 2023 Army Rally in Progress 
All districts of UP and UK Army Open Rally Bharti Program 2023 Click Here
1 STC 2 TTR Jabalpur Relation & Sports Army Recruitment Rally Bharti UHQ Quota Bharti 2023 job info CLICK HERE
2 STC 6 TTR Panaji Goa Relation & Sports Army Recruitment Rally Bharti UHQ Quota job info CLICK HERE
Uttar Pradesh Army Open Rally Bharti Program ARO Amethi 2023 – Click Here
WB State Army Rally all district 2023 – Click Here 
Odisha State Army Rally Program All District 2023 – Click Here
All India ARO Open/ Relation/ Sports Rally -2023  – Click Here
Complete information about army rally bharti district wise recent program 2023 – Click Here
Army Bharti ke liye online avedan kaisek karen? Army rally bharti online application form.
How to apply online for army rally bharti, Date of Online Application/ registration form Indian Army Rally Bharti ARO Amethi, ARO Bareilly, ARO Meerut, ARO Varanasi, ARO Almora, ARO Lansdowne , ARO Pithoragarh, ARO Rohtak ARO Hisar, ARO Charkhi Dadri, IRO Delhi Cantt, Chandigarh, ARO Shimla, ARO Palampur, ARO Hamirpur, ARO Mandi, ARO Belgaum, ARO Mangalore, ARO Trivandrum, ARO Calicut, ARO Coimbatore, ARO Tiruchirapalli, ARO Secundarabad, ARO Gunture, ARO Vishakapatanam, ARO Muzaffarpur, ARO Gaya, ARO Katihar, ARO Ranchi,  ARO Gwalior, ARO Bhopal, ARO Raipur, ARO Jhunjhunu, ARO Kota, ARO Alwar, ARO Jodhpur, ARO Firozpur, ARO Amritsar, ARO Patiala, ARO Srinagar, ARO Jammu, ARO Ludhiana,  ARO Siliguri,ARO Barrackpore, ARO Behrampore, ARO Cuttack, ARO Sambalpur, ARO Gopalpur, ARO Mumbai, ARO Nagpur, ARO Kolhapur, ARO Aurangabad, Goa, ARO Ahemdabad, ARO  Jamnagar, ARO Narangi, ARO Jorhat, ARO Rangapahar, ARO Silchar, ARO Aizawl
HQ Rtg Zone Online Registration of Application to Join Indian Army
HQ Lucknow, HQ Ambala, HQ Bangalore, HQ Chennai, HQ Danapur, HQ Jabalpur, HQ Jaipur, HQ Jalandhar, HQ Kolkota, HQ Pune, HQ Shillong, GRD Kunraghat, GRD Ghoom
Army Navy, IAF, Police Job Notification
Job Info in detail
Anganwadi Bharti 2023 Online Form 53000+ Post
Click Here
उत्तर प्रदेश सचिवालय सहायक भर्ती कार्यक्रम 2023
Click Here
अग्निवीर सेना भर्ती 2023 (All India)
Click Here
आल इंडिया ARMY भर्ती प्रोग्राम 2023
Click Here
UHQ Quota, Sports Open & Center Relation Rally Program 2023
Click Here
Indian Navy Sports Quota Recruitment Program 2023
Click Here
10th and 12th Pass Selection in Indian Navy 2023
Click Here
Graduate Male & Female Entry Scheme 2023
Click Here
1 STC bharti program 2023
Click Here
Women Tech/Non Tech Entry Course 2023
Click Here
Arty Centre Army Rally 2023
Click Here
Indian Navy 10+2 B Tech Entry 2023
Click Here
All India Army Rally Bharti Program 2023
Click Here
भारतीय सेना परीक्षा पाठ्यक्रम की पूरी जानकारी हिंदी एवं अंग्रेजी में
Click Here
UHQ Quota Relation/ Open Sports Bharti Program 2023
Click Here
पुलिस भर्ती मेडिकल टेस्ट कैसे होता है
Click Here
Police Bharti 2023
Click Here
State Wise Army Rally Program 2023
Click Here
Army Navy IAF Medical Test Male/ Female
Click Here
भारतीय सेना महिला प्रवेश योजना 2023
Click Here
Documents for Online Application
Click Here
Know about CAPF, NSG, SPG, BSF, CISF, CRPF, SSB, ITBP, AR, NIA, SSF, SSC Indian Security Forces
Click Here
दवाओं का प्रयोग: सेना में भर्ती होने वाले सभी उम्मीदवारों को शारीरिक प्रदर्शन बढ़ाने वाली दवाओं का इस्तेमाल न करने की सलाह दी जाती है। भर्ती रैली के दौरान उम्मीदवारों पर प्रदर्शन बढ़ाने वाली दवाओं के उपयोग के लिए आकस्मिक जांच की जाएगी। ऐसी किसी भी दवा का उपयोग सख्त वर्जित है। दोषी पाए जाने पर, उम्मीदवार को भर्ती प्रक्रिया से निकाल दिया जाएगा।