ARO Army Rally Bharti in Progress, Present Army Recruitment Rally Schedule ARO 2019-2020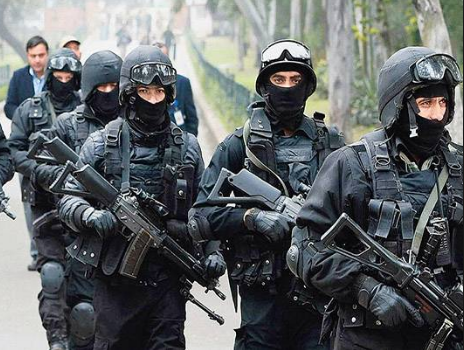 Army Rally Bharti Present Program 2019 all AROs: Indian army recruitment latest running program of all AROs of HQ Recruiting Zones/ States. District wise/ ARO wise/ Zone wise recent army rally bharti schedule, time table, army bharti chart, ongoing army recruitment program notification of all state Indian army rally for information of candidates is given below in the table.
Army Job: Welcome to youngsters who wish to join Indian army.  There is good news and opportunity to join Indian army to  Students who have passed class 8th, 10th or 12th and completed age for soldier post. All India ARO latest army recruitment rally notification. Indian army ARO current army rally bharti schedule. Online application date, admit card/ call up letter, rally program, application process Indian Army Recruitment Rally.
Info About Post: Complete Information about army rally bharti physical, zone wise/ state wise height, weight, chest, age, qualification, physical test, medical test, written test, army written test syllabus and exam pattern, Indian army category wise soldier selection process. Full information about army rally bharti UHQ Quota Relation Recruitment, Sports Quota Army Bharti, NCC Army Bharti, bonus marks to be added in finlal merit, physical marks, NCC marks, Sports Marks, list of documents required for army rally, list of sports for army recruitment and preparation of final merit list for selection in the army complete info is given in the table.
नोट: सोल्जर क्लर्क / एसकेटी/ किट इन्वेंट्री लिपिक के परीक्षा प्रश्न पत्र सेक्शन ए और बी में कुल 100 अंकों के प्रश्न होंगे एवं प्रत्येक प्रश्न समान अंकों का होगा। उम्मीदवार को प्रत्येक विषय में 32% और कुल मिलाकर 40% के साथ उत्तीर्ण होना चाहिए। इसका मतलब है कि अगर आपके पास सेक्शन ए में 32 नंबर है और सेक्शन बी में 40 नंबर है तो आप फेल मानेंगे। क्योंकि लिखित परीक्षा पास करने के लिए 32 + 40 = 72 अंक बनते हैं जबकि आप को पास होने के लिए 80 अंक होने चाहिए।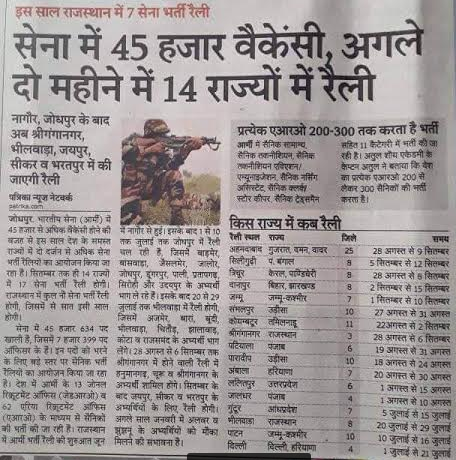 Army Recruitment Rally Program from 01 July 2019 to 31 December 2019-Latest Rally Schedule
Indian Army Recruitment Rally Latest Updated Program 2019-2020. Present ongoing Army Recruitment Rally Schedule of all India ARO in progress as under:-
SSB Sports Quota Rally Bharti Program 13-07-2019 to  11-08-2019 Check Rally Program Schedule
Sikkim Army Open Recruitment Rally Programme ARO Siliguri from 16-10-2019 to 18-10-2019 Check Rally Bharti Schedule
MRC Saugor Open and UHQ Quota Bharti 16-09-2019 to 27-10-2019 Click for Rally Bharti
West Bengal Army Open Recruitment Rally Programme ARO Barrackpore from 15-09-2019 to 23-09-2019 Check Rally Bharti Schedule
West Bengal Army Open Recruitment Rally Programme  ARO Siliguri from 05-09-2019 to 12-09-2019 Check Rally Bharti Schedule
Uttar Pradesh Army Open Recruitment Rally Programme ARO Meerut from 14-10-2019 to 26-10-2019 Check Rally Bharti Schedule
Uttar Pradesh (UP) Army Open Recruitment Rally Programme ARO Agra from 01-08-2019 to 15-08-2019 Check Rally Bharti Schedule
Punjab Army Open Recruitment Rally Programme ARO Ferozepur from 17-09-2019 to 26-09-2019 Check Rally Bharti Schedule
Punjab Army Open Recruitment Rally Programme ARO Ludhiana from 18-11-2019 to 27-11-2019 Check Rally Bharti Schedule
Punjab Army Open Recruitment Rally Programme ARO Patiala from 19-08-2019 to 31-08-2019 Check Rally Bharti Schedule
Punjab Army Open Recruitment Rally Programme HQ Jalandhar from 01-08-2019 to 10-08-2019 Check Rally Bharti Schedule
Reasi Army Open Recruitment Rally Programme from 01-09-2019 to 10-09-2019 Check Rally Bharti Schedule
Bihar Army Open Recruitment Rally Programme HQ Danapur ARO from 02-09-2019 to 15-09-2019 Check Rally Bharti Schedule
Tamil Nadu Army Open Recruitment Rally Programme ARO Coimbatore from 22-08-2019 to 02-09-2019 Check Rally Bharti Schedule
Unit HQ Quota Army Recruitment Rally Program 2019-2020 – Check Rally Bharti Schedule
Women Army Recruitment Rally Program Indian Army 2019 Check Rally Bharti Schedule
Kerala Army Open Recruitment Rally Programme ARO Calicut from 28-08-2019 to 08-09-2019 Check Rally Bharti Schedule
Mahe Army Open Recruitment Rally Programme ARO Calicut from 28-08-2019 to 08-09-2019 Check Rally Bharti Schedule
Haryana Army Open Recruitment Rally Programme RO HQ Ambala from 20-08-2019 to 30-09-2019 Check Rally Bharti Schedule
Haryana Army Open Recruitment Rally Programme ARO Charkhi Dadri from 20-07-2019 to 30-07-2019 Check Rally Bharti Schedule
Haryana Army Open Recruitment Rally Programme IRO Delhi from 01-07-2019 to 21-07-2019 Check Rally Bharti Schedule
Chandigarh Army Open Recruitment Rally Programme at Yamunanagar from 20-08-2019 to 30-09-2019 Check Rally Bharti Schedule
J & K Army Open Recruitment Rally Programme ARO Jammu from 01-09-2019 to 10-09-2019 Check Rally Bharti Schedule
Jammu and Kashmir Army Open Recruitment Rally Programme ARO Srinagar from 10-07-2019 to 16-07-2019 Check Rally Bharti Schedule
Gujarat Army Open Recruitment Rally Programme ARO Ahmedabad from 28-08-2019 to 09-09-2019 Check Rally Bharti Schedule
Rajasthan Army Open Recruitment Rally Programme ARO Jhunjhunu from 28-08-2019 to 06-09-2019 Check Rally Bharti Schedule
Rajasthan Army Open Recruitment Rally Programme ARO Kota from 20-07-2019 to 29-07-2019 Check Rally Bharti Schedule
Odisha Army Open Recruitment Rally Programme ARO  Sambalpur from 27-08-2019  to  31-08-2019 Check Rally Bharti Schedule
Odisha Army Open Recruitment Rally Programme ARO Cuttack from 18-08-2019 to 24-08-2019 Check Rally Bharti Schedule
Andhra Pradesh Army Open Recruitment Rally Programme ARO Guntur from 05-07-2019 to 05-07-2019 Check Rally Bharti Schedule
Delhi Army Open Recruitment Rally Programme IRO Delhi from 01-07-2019 to 21-07-2019 Check Rally Bharti Schedule
| All India Army Open Recruitment Rally Bharti Program 2019-2020 of all ARO | Click Here |
| --- | --- |
| State Wise Army Open Recruitment Rally Program | Click Here |
| Medical Test Process Indian Army | Click Here |
| Indian Army UHQ Quota Relation/ Open Sports Bharti Program 2019-2020 | Click Here |