Medical Test SSC GD, CAPF, BSF, ITBP, CISF, SSB, CRPF, RPF, Delhi Police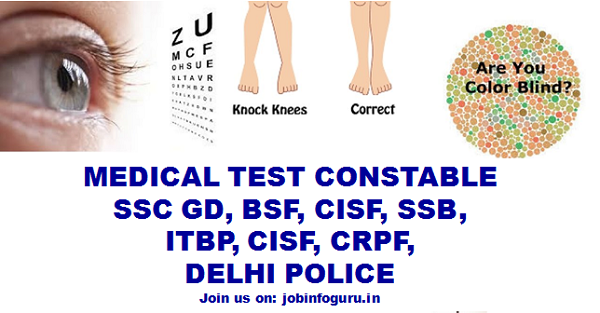 1. Medical Test Examination: Police Medical, on successful completion of Physical Test, Written Test, Documentation for recruitment process medical test exam for male/ female candidates of SSC GD, CAPF, BSF, ITBP, CISF, SSB, CRPF, RPF, Delhi Police will be carried out as per procedure given below:-
2. Detailed Medical Examination (DME): Candidates will be put through Detailed Medical Examination strictly on the basis of merit. The Detailed Medical Examination will be conducted as per MHA Revised Medical Guidelines issued by ADO (Medical) and  amendments thereof. If sufficient numbers of candidates for the posts are available only 3 times category wise candidates higher in merit will be called for Detailed Medical Examination. Candidates who do not find place in the merit list so prepared will not be called for Detailed Medical Examination.
3. Appeal Against Findings of Medical Test Examination: If a candidate is declared unfit in the detailed medical examination, the grounds for rejection will be communicated to him/her by the Chairman. If the rejected candidate is not satisfied with the findings of the Medical Officer, he/she will obtain Form-1, 2 & 3 from the Chairman Recruitment Board concerned to prefer an appeal for Review Medical Examination within 15 days from the date of issue of communication in which the findings of the Medical Officers is communicated to him/her. The appeal should necessarily contain the following:-
(a) Review Medical Examination fee of Rs.25/- (Rupees Twenty Five only) non-refundable, through a Demand Draft payable in favour of concerned authority to be intimated by Chairman Recruitment Board.
(b) Appeal Forms-1, 2 & 3 issued by Detailed Medical Board duly completed in all respect.
(c) One self addressed envelope with Rs.25/-(Rupees Twenty Five) only postage stamp duly affixed on it. Fitness certificate other than Form-3 (provided by the Chairman of Recruitment Board to the Candidate) will not be considered for Review Medical Examination and appeal will be rejected straightway. The fitness certificate on form-3 is essential to consider bis/her case for review medical examination and not for any other purpose.
4. Average Body Weights in Kilograms for Different Age Groups and Heights: Weight Medical Test/ Medical Exam for male and female for constable GD recruitment in SSC GD, CAPF, BSF, ITBP, CISF, SSB, CRPF, RPF, Delhi Police are given in the table below:-
5. FEMALE CANDIDATES
Height
in Cms
आयु सीमा एवं वजन महिला
18-22
23-27
28-32
33-37
148
34.5-42.5
37-45
38.5-47
39.5-48.5
150
36.5-44.5
37.5-45.5
39-48

40.5-49.5
153
38-46
39-48
41-50
42-51
155
38.5-47.5
40-49
41.5-50.5
43-52.5
158
40.5-49.5
42-51
43-53
44.5-53.5
160
41.5-50.5
43-52.5
44-54
45.5-54.5
163
43-52.5
44-54
46-56
47-57
165
44-54
45.5-55.5
47-58
48.5-59.5
168
45-55
47-57

48.5-59.5
49.5-60.5
6. MALE CANDIDATES
Height
in Cms
आयु सीमा एवं वजन पुरुष
18-22
23-27
28-32
33-37
156
44-54
46~56
47-58
48-59
158
45-55
47-57
48.5-59.5
49.5-60.5
160
46-56
47.5-58.5
49.5-60.5
50.5-61.5
162
47-58
49-60
50.5-61.5
52-63
164
48-59
50-61
52-63.5
53-65
166
49.5-60.5
51.5-62.5
53-65
54.5-66.5
168
51-62
52.5-64.5
54.5-66.5
56-68
170
52-64
54-66
56-68
57.5-70.5
172
54-66
55.5-67.5
57-70
59-72
174
55-67
57-70
59-72
61-74.5
176
56.5-69
58.5-71.5
60.5-73.5
62-76
178
57.5-70.5
60-73
61.5-75.5
63.5-77.5
180
59-72
61-75
63.5-77.5 .
65.5-80
182
61-74.5
62.5-76.5
65-79
66.5-81.5
184
63-77
64.5-78.5
66.5-81.5
68.5-83.5
186
63.5-77.5
65.5-80.5
68-83
70-86
188
65-79
67.5-82.5
70-85.5
71.5-87.5
190
66-81
68.5-83.5
70.5-86.5
72.5-88.5
Assam Rifles (AR) Recruitment Rally Notification – Click Here
Online Application Procedure CAPF – Click Here
SSB Recruitment Rally Program – Click Here
Indian Army Latest Rally Bharti Schedule 2021 Notification
| Army Navy, IAF, Police Job Notification | Job Info in detail |
| --- | --- |
| Indian Navy Sports Quota Recruitment Program 2021 | Click Here |
| 10th and 12th Pass Selection in Indian Navy 2021 | Click Here |
| Graduate Male & Female Entry Scheme 2021 | Click Here |
| 1 STC bharti program 2021 | Click Here |
| Women Tech/Non Tech Entry Course 2021 | Click Here |
| Arty Centre Army Rally 2021 | Click Here |
| Indian Navy 10+2 B Tech Entry 2021 | Click Here |
| All India Army Rally Bharti Program 2021-2022 | Click Here |
| भारतीय सेना परीक्षा पाठ्यक्रम की पूरी जानकारी हिंदी एवं अंग्रेजी में | Click Here |
| UHQ Quota Relation/ Open Sports Bharti Program 2021-2022 | Click Here |
| पुलिस भर्ती मेडिकल टेस्ट कैसे होता है | Click Here |
| Police Bharti 2021-2022 | Click Here |
| State Wise Army Rally Program 2021-2022 | Click Here |
| Army Navy IAF Medical Test Male/ Female | Click Here |
| भारतीय सेना महिला प्रवेश योजना 2021-2022 | Click Here |
| Documents for Online Application | Click Here |
| Know about CAPF, NSG, SPG, BSF, CISF, CRPF, SSB, ITBP, AR, NIA, SSF, SSC Indian Security Forces | Click Here |
| | |
Role of Security Forces Click Here