Maharashtra & Goa TA Bharti 2019
Maharashtra TA Bharti Rally 2022-TA Recruitment Bharti Rally Maharashtra: TA bharti rally Goa, Ahmednagar, Akola, Amravati, Aurangabad, Beed,Bhandara, Buldhana, Chandrapur, Dhule, Gadchiroli, Gondia, Hingoli, Jalgaon, Jalna, Kolhapur, Latur, Mumbai City, Mumbai Suburban, Nagpur, Nanded, Nandurbar, Nashik, Osmanabad, Palghar, Parbhani, Pune, Raigad, Ratnagiri, Sangli, Satara, Sindhudurg, Solapur, Thane, Wardha, Washim, Yavatmal districts of maharashtra state for ta army recruitment rally bharti notification date and program. TA job info for Maharashtra state.
For Full Information – Click Here
TA Rally Bharti Program 2022: Rally bharti TA of Maharashtra for all district. TA bharti date, notification, program for Maharashtra pradeshik sena bharti rally for 2022 is given in the table below.
TA soldier bharti selection procedure
Physical Fitness Test, pft TA
Physical Measusrement Test, pst TA
Admit Card
Written Examination
Final Result of TA
Pay and Allowances TA Soldier: After recruitment a soldier is entitled to get approximately Rs 30,000/- per month as per Seventh Pay Commission and allowances as admissible along with other facilities such as free ration/ ration money, clothing, medical for self and accommodation, Railway warrant for self and dependents, Group Housing Scheme, Army Group Insurance Scheme of Rs 40,00,000/-. The other privileges are fully paid Annual Leave up to a maximum of 60 days, Casual Leave up to a maximum of 30 days, Medical Leave as recommended by Medical authorities and Leave Encashment up to 30 days in a calendar year and maximum 300 days in service.
Physical standard required for Maharashtra TA Bharti
Age Limit for TA : Candidates 18 year to 42 years of age are eligible for ta bharti rally.
Physical Standard : Physical Standard for all trades/categories for recruitment in up ta rally bharti (Territorial Army) is as under :
(a)   Minimum height for TA bharti:  160 Centimeter/1.60 Meter/5.33 Feet.
(b)   Minimum chest for TA bharti:  77 to 82 Centimeter
(c)   Minimum weight for ta bharti:  50 Kilogram
Physical Fitness Test (PFT) for TA recruitment: PFT or physical efficiency test for ta army bharti for all candidates is as under:-
Running for TA Bharti: Running for 1600 meter or 1.6 Km is required  as per timing and marks given below for TA Bharti:-
Group I Running Marks: Candidates who clear 1600 meter race with in 5 minutes and 30 minutes will get full 60 marks in Group I.
Group II Running Marks:  Candidates who clear 1600 meter race with in 5 minutes and 45 minutes will get full 48 marks in Group II.
Beam-Pull Ups for TA Bharti: Number add pull ups (beam) and marks allotted for TA Bharti is as under:-
10 Pull Ups on beam–40 Marks
9 Pull ups on beam–33 Marks
8 Pull ups on beam–27  Marks
7 Pull ups on beam–21 Marks
6 Pull ups on beam–16 Marks
9 Feet Long Jump: Candidates have to clear 9 feet ditch jump for TA Bharti which is qualify in nature only.
Zig Zag Balance: Candidates have qualify zig zag balance for TA Bharti which is very simple.
TA rally bharti trade/category:
TA Soldier General Duty (Sol GD)
TA Soldier Clerk and Soldier SKT
TA Soldier Clerk Staff Duties
TA Soldier Tradesmen Categories 10th Pass
TA Soldier Tradesmen categories 8th Pass
Ex Servicemen soldier gd bharti in TA
Ex Servicemen Havildar Recruitment in TA in all categories
JCO Ex Servicemen Direct Bharti in TA in various categories
Maharashtra & Goa TA (Territorial Army) Bharti Rally Program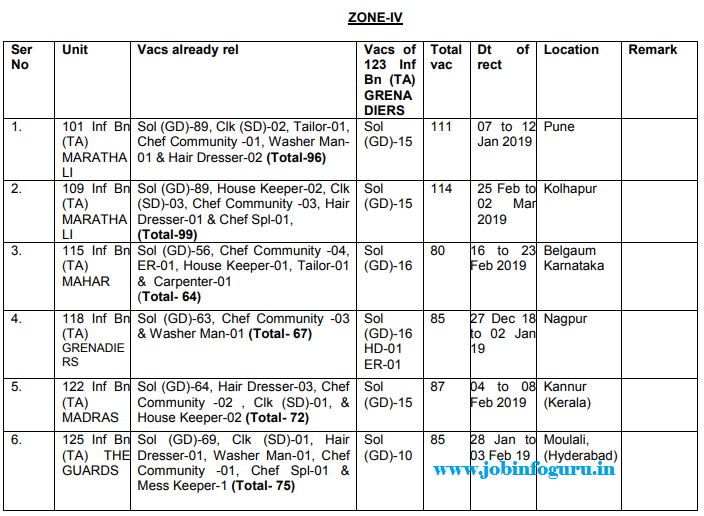 TA bharti rally education qualification:
Education Qualification Soldier GD TA Army Bharti: Minimum Education Qualification for Sol GD category candidates will be High School or Metric or SSLC or 10th Class pass from Education Boards/ recognized Institutions is eligible for TA Bharti as Sol GD.
Percentage of Marks for Sol GD

: A candidate must score minimum 33% marks in each subject and 45% in aggregate for recruitment as Soldier General Duty in Bharti.
Additional Subjects

: Additional Subjects are not applicable for calculation of percentage in Soldier GD category.
Education Boards Grading System

: Minimum of D grade (33-40) in individual subjects or grade which contains 33% and overall aggregate of C2 grade (41-50) points is considered eligible for recruitment as Soldier GD with marks stipulation.
Higher Qualifications 10+2 Sol GD

: Intermediate or 10+2 pass or more qualified candidates need not have 45% marks in High School/ Metric/ SSLC /10th class.
Note:  Vocational Subjects: Candidates with 10+2 Vocational Subjects are not eligible for Soldier Technical & Soldier Clerk/ Store Keeper Technical categories. They can apply for Soldier Tradesman / Soldier General Duty if meeting required percentage of marks in Class 10th.
Education Qualification Soldier Technical Group: 10+2 / Higher Secondary /Intermediate exam passed in Science with Physics, Chemistry, Maths and English with 50% marks in aggregate and 40% marks in each subject from Education Boards/ Institutions recognized.
Education Qualification Sol Clerk/SD/SKT Bharti: Minimum Education Qualification required for soldier clerk/ store keeper technical in the army is as under:-
Should have secured 50% marks in each subject and 60% marks in aggregate in Class XII.
Should have studied English and Maths / Accts / Book Keeping in Class XII or X and should have secured min 50% marks in each of these subjects, whether it was studied in Class XII or X.
Even, if a candidates is a graduate or has a higher qualification, percentage of marks scored in Class XII would be applicable towards his eligibility.
अनिवार्य शैक्षणिक योग्यता

 सैनिक लिपिक (क्लर्क)/स्टोर कीपर: 12वीं या समकक्ष पास (कला,वाणिज्य या विज्ञान विषयो में) कम से कम 60 प्रतिशत अंक और प्रत्येक विषय में कम से कम 50 प्रतिशत अंको के साथ उत्तीर्ण होना चाहिए। (10वीं या 12वीं में अंग्रेजी तथा गणित में कम से कम 50 प्रतिशत अंको के साथ उत्तीर्ण होना चाहिए। यदि प्रार्थी स्नातक या उच्च शिक्षा उत्तीर्ण है तब भी 12वीं के अंकों का प्रतिशत लागू होना अनिवार्य है।
Question Paper Clerk: For Clerk category, the entire question paper (all 50 questions) will be attempted on OMR Sheet and no separate subjective answer sheet will be used for English section.
Note

: Even if a candidate is graduate or has a higher qualification, percentage of marks scored in class 12th would be applicable toward his eligibility.
Education Qualification Soldier Tdn: Minimum Education for Sol Tdn 10th Class Pass for chef, Washerman, Dresser, Steward, Tailor, Artisan Wood Work), Artisan (Metallurgy), Support Staff (ER), Artisan Construction) and all other trades 10th simple pass/ ITI Qualification in respective trades. Only candidates who have undertaken class X Board Exam would be considered for Army Bharti. Education for Sol Tdn 8th Pass: Minimum Qualification for Soldier Tdn 8th Class Pass for House Keeper, Mess Keeper and Syce.
TA Rally Bharti Documents: Candidates are advised to keep ready following documents for Territorial Army Recruitment Rally Bharti. List of Documents for TA Rally Bharti is as under:-
1.  High School / SSC / 10th Class Certificate and Mark Sheet.
2.  Intermediate / HSC / XII Class Certificate and Mark Sheet.
3.  Graduation Degree Mark Sheet and certificate.
4. Residence Certificate with photograph issued by the authorised signatory of the State Government / Tehsildar / SDM.
5.  Caste Certificate.
5 (a) Religion Certificate: Religion certificate issued by Tehsildar/SDM (if Religion as "Hindu/Sikh/Muslim/ Christian" is not mentioned in the case certificate).
6.  Character Certificate from last education institute (Not more than six month old).
7.  Character Certificate from Village Pradhan or Sarpanch or Administrative Officer(Not more than six month old).
8.  NCC A, B, C Certificates if condidate is NCC Student
9.  Outstanding Sports Certificates to be produced if represented in the following:-
(a)   Represented India at International level.
(b)   Represented State at National Level.
(c)   Represented District at National Level.
(d)   Represented University Team or Regional Team at District Level.
10.  ITI Certificates for concern candidates.
11. Computer Certificate, Candidates having O+ Level Computer Certificate 'Business Professional Programmer' issued by the DOEACC Society for Soldier Clerk/SKT.
12.  Transfer Certificate in original for Non Matric / 8th Class Pass Students (for Tdn Category)
13.  In case of Non Matric Candidates, Transfer Certificate signed by Headmaster/Principal of the school & countersigned by District Education Officer and Mark Sheet of last examination appeared, duly affixed with school seal and attested by Headmaster.
14.  Unmarried Certificate with photograph issued by Village Sarpanch / District Administration issued within last six months (If candidate is below 21 years of age) Format for unmarried certificate
15.  Sixteen latest coloured 34mm x 45mm passport size photographs not taken earlier than six months with Name and Date of Birth printed on bottom of photographs of the candidates. The photograph should be without facial hair (Beard) and preferably with light coloured background and plain/light coloured shirt.
16.  Son of Servicemen/Son of Ex Servicemen/Son of war widow and battle casualty (a) There is provision for instant enrolment for Son of Service person and Ex-servicemen. Sons of War Widows and Battle Casualties, Eligible candidates to contact concerned Army Recruiting Office.
17.  In case of son of serving soldier of JCO/OR or Officer/son of Ex Servicemen, relationship certificate duly signed by Chief Record Officer/Senior Record Officer of respective Record Office with date of birth, Joint Photographs of the candidate with his father will be produced.
18. Aadhar Card.
19.   All candidates will bring an Affidavit duly signed by the candidate on Stamp paper and attested by a Notary (format attached). Format of affidavit is given below.
20.  Candidates are advised to take care of their documents/belongings against theft during rally.
21.  Attested photocopy / printout of education certificate obtained from the Internet duly attested by the school Principal will be accepted at the Rally site for candidates whose original certificates have not been received from the concerned education board after declaration of the result or for candidates who have deposited their certificates in some other institute where they might be undergoing some professional course.
22. Affidavit: Duly signed by candidate on Rs 10/- Non-Judicial Stamp Paper as per specimen duly attested by notary will be submitted by candidate.
23. Single Bank Account, PAN Card & Aadhar Card: Single Bank Account, PAN Card and Aadhar Card are mandatory documents for final enrollment for purpose of Pay & Allowances and other social benefits scheme.
TA written exam syllabus: Exam syllabus for written exam TA army maths, GK, general science and question paper for ta bharti will covers the following subjects/topics. ta soldier bharti syllabus:-
General Knowledge Question Paper (सामान्य ज्ञान) 
Abbreviations (लघुरूप) – National & International
Sports (खेल) – National and International
Prizes & Awards (पुरस्कार) – National awards, Gallantry awards, Nobel Prizes
History (इतिहास) – Important dates and battles in Indian and the World History and landmarks of Indian History, national
movement, waterfalls, Geographical Tallest, Biggest & Longest
Terminology (शब्दावली) – Geographical terms, Economic Terms, Astronomical Terms, Legal Terms & Misc Terms
Geography (भूगोल) – Solar System Space exploration, The earth principal peaks, Deserts, Rivers, Lakes, and famous.
General Science Question Paper (सामान्य विज्ञान)
Human Body (मानव शरीर) – Food and nutrition, diseases and prevention, vitamins and their uses. The question of General Science consisting of topic related to Physics, Chemistry & Biology. Based on fundamentals and day to day activities.
Medical Terms (मेडिकल)
Scientific Terms (वैज्ञानिक)
Scientific & Research Institutes in India (भारत में वैज्ञानिक और अनुसंधान संस्थान)
Mathematics Question Paper (अंक शास्त्र)
Arithmetic (अंकगणित) – Consisting of numbers, HCF, LCM, Decimal fraction, square roots, partnership, profit & loss, unitary method, percentage, Average, Ratio & proportion, time work & distance, simple interest.
Mensuration (क्षेत्रमिति)– Area and perimeters of Squares, rectangles parallelograms, circles, volume & surface area of the cube, cuboids, cone, cylinders & sphere.
Algebra (बीजगणित) – Basic operations and factorization, HCF and LCM, quadratic equations.
Geometry (ज्यामिति) – Triangles quadrilaterals, parallelograms, Lines, angles, and circles.
Indian Army Latest Rally Bharti Schedule 2022 Notification
Defence Job Info Schedule 2022
Search links: TA Bharti Maharashtra, Maharashtra TA Army Bharti, TA relation bharti maharashtra, TA Sports bharti maharashtra, maharashtra NCC bharti TA.