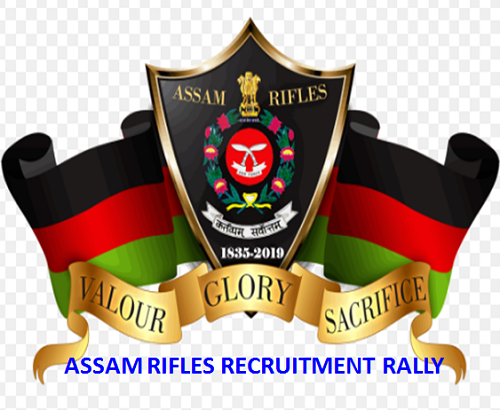 1. Assam Rifles (AR) Relation Bharti Priority: AR Relation Recruitment Rally Priority for recruitment of son/ daughter/ dependent of personnel who killed in action/ died in service/ discharged on medical ground/ medical boarded out as per detailed given below.
Assam Rifles Recruitment Rally Bharti Program 2019-2020
Mode of Application
Offline
Application Last Date
13-08-2019
Date of Recruitment Rally
19-08-2019
Onward
Written Exam
No Written Exam
Postal Address
DIRECTORATE GENERAL ASSAM RIFLES(RECRUITMENT BRANCH)LAITKOR, SHILLONG MEGHALAYA-793010
Applicability for Recruitment of Dependent in AR
2. Dependent: One dependent family member of following categories of Assam Rifles personnel is eligible to apply for Compassionate Ground Appointment:-
Priority 1:  Killed in action (Martyred)
Priority 2: Died while in service (including death by suicide)
Priority 3:  Is retired on medical grounds under Rule 2 of CCS  (Medical Examination) Rules 1957 or the corresponding provision in the Central Civil Service Regulations before attaining the age of 55 years (57 years for erstwhile Group 'D' Govt servants).
Priority 4:  Is retired on medical grounds under Rule 38 of the CCS (Pension) Rules, 1972 "Invalid pension may be granted if a Govt servant retires from the service on account of any bodily or mentally infirmity which permanently incapacitates him for the service" or the corresponding provision in the central Civil Service Regulations before attaining the age of 55 years (57 years for erstwhile Group 'D' Govt servants).
Priority 5: Is medically boarded out and is unfit for civil employment.
Priority 6: Missing Assam Rifles Personnel While on Service. Cases of missing Assam Rifles personnel are also covered under the scheme for compassionate Ground appointment, subject to the following conditions:-
(a) A request to grant the benefit of compassionate ground appointment can be considered only after a lapse of at least 02 years for the date from which the Government servant has been missing, provided that:-
(i) An FIR to this effect has been lodged with the Police.
(ii) The missing person is not traceable (after police investigation report).
(iii) The competent authority feels that the case is genuine.
(b) This benefit will not be applicable to the case of a Government servant:-
(i) Who had less than two years two years to retire on the date from which he has been missing, or
(ii) Who is suspected to have committed fraud, or suspected to have joined any unlawful organisation or suspected to have gone aboard.
(c) Compassionate ground appointment in the case of a missing Government servant also would not be a matter of right as in the case of others and it will be subject to fulfillment of all the conditions, including the availability of vacancy, laid down for such appointment under the scheme.
(d) While considering such a results of the Police investigation  will also be taken into account.
(e) A decision on any such request for compassionate ground appointment will be taken by this Directorate.
Dependent Family Members: The following constitute department family members:-
(a) Spouse, or
(b) Son (including adopted son) or
(c) Daughter (including adopted daughter), or
(d) Adoption should have been done in the life of Govt servant in terms of court of law of the land. Adoption taken place after expiry of Govt servant by his/her family members is not admissible for Compassionate Ground Appointment.
(e) Brother or sister in the case of unmarried Govt employee who was wholly dependent on him at the time of death in harness or retirement on medical grounds, as the case may be.
Rejection of Applications: In case the information furnished by the candidates in the Application Form is found to be false at any stage of the Recruitment Rally and even at a later stage. The candidature of such candidates will summarily be rejected without any notice. Appropriate action will also be taken against such candidates as per the provisions of law by registering an FIR with the Police. Applications received after the last/due date will not be entertained. Incomplete application, in any respect will be rejected summarily and no correspondence will be made on this account.
Assam Rifles (AR) Recruitment Rally Notification – Click Here
Online Application Procedure CAPF – Click Here
SSB Recruitment Rally Program – Click Here
Indian Army Latest Rally Bharti Schedule 2021 Notification
| Army Navy, IAF, Police Job Notification | Job Info in detail |
| --- | --- |
| Indian Navy Sports Quota Recruitment Program 2021 | Click Here |
| 10th and 12th Pass Selection in Indian Navy 2021 | Click Here |
| Graduate Male & Female Entry Scheme 2021 | Click Here |
| 1 STC bharti program 2021 | Click Here |
| Women Tech/Non Tech Entry Course 2021 | Click Here |
| Arty Centre Army Rally 2021 | Click Here |
| Indian Navy 10+2 B Tech Entry 2021 | Click Here |
| All India Army Rally Bharti Program 2021-2022 | Click Here |
| भारतीय सेना परीक्षा पाठ्यक्रम की पूरी जानकारी हिंदी एवं अंग्रेजी में | Click Here |
| UHQ Quota Relation/ Open Sports Bharti Program 2021-2022 | Click Here |
| पुलिस भर्ती मेडिकल टेस्ट कैसे होता है | Click Here |
| Police Bharti 2021-2022 | Click Here |
| State Wise Army Rally Program 2021-2022 | Click Here |
| Army Navy IAF Medical Test Male/ Female | Click Here |
| भारतीय सेना महिला प्रवेश योजना 2021-2022 | Click Here |
| Documents for Online Application | Click Here |
| Know about CAPF, NSG, SPG, BSF, CISF, CRPF, SSB, ITBP, AR, NIA, SSF, SSC Indian Security Forces | Click Here |
| | |