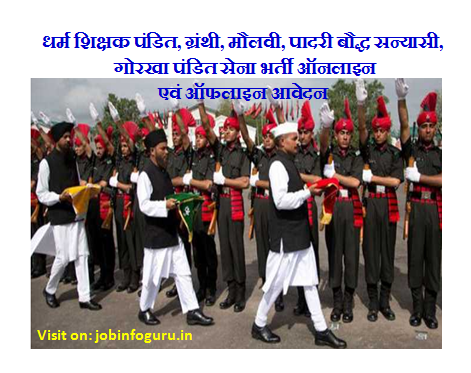 Selection Process JCO RT:– Indian Army is a dream for many candidates to be a part of it. Recently, the Indian Army has released a notification to invite candidates for Junior Commissioned Officer Religious Teacher. All eligible male candidates can apply in the prescribed format for the Indian Army JCO RT recruitment for the vacancies of Pundit, Granthis, Maulvis, Bodh Monk, Padres, Gurkha Regiments.For joining army as JCO RT, eligibility criteria, PFT, syllabus, written exam 2023 details are given in the table below.
RT JCO Notification RRT Course 2023 Indian Army: Recruitment Rally Notification Indian Army Junior Commissioned Officer (RT JCO) RRT Course 88, 89 and 90. Date of Online application form, admit Card, Eligibility Criteria, Education Qualification, Physical Standard, Height, Weight, Chest, PFT, Medical Exam, Written Exam Syllabus, Interview for RT JCO. Army Recruitment Open Rally Bharti Program for Dham Shikshak/ Dharm Guru ie Pandit, Maulvi, Granthi, Gorkha Pandit, Bouddh Sanyasi, Padari Rally Bharti 2023.
Notice:- For Jco (Religious Teacher) Category Candidates Are Required To Secure A Minimum 50 Out Of 100 Marks To Qualify In The Interview.
Religious Teacher JCO (RT JCO) Rally Bharti Program 2023
RT JCO Recruitment Program 2023
Important Dates
Application Date
Updated soon
Rally Bharti Date
10-11-2022 to
15-02-2023
Fee
No Application fee is payable
Qualification
Graduate in any discipline from a recognized university
Age Limits
Min 25 whereas max 34 years as on 01/10/2021


Selection procedure
Written test + interview
Indian Army JCO RT Vacancy Details 2023
Pundit
108 Posts
Pundit [Gurkha] for Gorkha Regiments
05 Post
Granthi
08 Post
Maulvi [Sunni]
03 Post
Maulvi [Shia] for Ladakh Scouts
01 Post
Padre [Priest]
02 Post
Buddhist Monk [Mahayana] for Ladakh Scouts
01 Post
Total
128 Post
RT JCO Recruitment Notification 91, 92, 93, 94 and 95 Course 2023- CLICK HERE
JCO RT  (Dharm Guru)  Army Recruitment Rally Vacancy 2023
Duties of RT JCO & Vacancy, Dharm Shikshak Bharti, Dharm Guru ke karya
RRT Course 91, 92, 93, 94 and 95 JCO RT Vacancy 2023
Written Examination RT JCO:–  On completion of medical examination all fit candidates will be issued admit card for written examination. Date and place for written examination will be given by the Recruiting Officer of the ARO. Written Examination of RT JCO will comprise of two papers as under.
Indian Army Soldier New Syllabus Exam Pattern
Education Qualifications Eligibility for JCO RT Recruitment:- Min education qualification is Graduate degree in any discipline. Following table shows the eligibility criteria for recruitment to the different Dharm Guru posts in Indian Army.
Indian Army JCO RT Eligibility
Post Name
Qualification
Eligibility
Pandit / Pandit Gorkha) for Gorkha regiment
Acharya in Sanskrit OR Shastri in Sanskrit with one-year diploma in "Karam Kand"
indu / Hindu (Gorkha) candidates only.
Granthi
"Gyani" in Punjabi
Sikh candidates only
Maulvi (Shia) for Ladakh Scouts
Maulvi Alim in Arabic or Adib Alim in Urdu
Ladakhi Muslim Shia candidates only
Padre (Priest)
Have ordained priesthood by the appropriate ecclesiastical authority and is still on the approved list of the local Bishop
Christian candidates only
Buddhist Monk (Mahayana) for Ladakh Scouts
Have ordained Monk/Buddhist Priest, by a Head Priest of the Monastery where the person has been initiated into priesthood. The head priest should be in possession of Geshe (Ph.D) of Khanpa or Lopon or Rabjam with proper certificate from Monastery
Buddhist (Mahayana) candidates only
Interview:-  The candidates declared successful in the written examination and short listed for interview will be communicated about the interview dates by e-mail/SMS/Post through self addressed envelopes and the list will also be displayed at their Respective Headquarters Recruiting Zone.
Qualifying Mark for Interview:- RT JCO candidates are required to secure a minimum 50 marks out of 100 marks to qualify in the interview.
Final Selection RT JCO:–  The final selection will be based on merit list drawn on the basis of the total marks obtained in Paper II and Interview.
Declaration of Result:– List of finally selected candidates for RT CO will be displayed on website www.joinindianarmy.nic.in and respective HQ Recruiting Zones.
Final Enrolment:– Candidates of RT JCO finally selected will be enrolled as JCO (RT) and will undergo six weeks training at Regimental Centre followed by eleven week training at Institute of National Integration, Pune.
Rejection of candidates:– Rejection candidate can take place at any stage during training also.
Age Limit for RT JCO:- Candidates would not below 25 years of age and not above 34 years of age on 2023 (i.e. Candidates born between 01 Oct 1987 and 30 Sep 1996 inclusive of both dates) of the Rtg year.
Indian Army JCO RT Exam Syllabus
Indian Army JCO RT Exam Syllabus 2023
Papers

Subjects
Questions
Marks
Paper-1
General Awareness
50
50
Paper-II
Specific to religious denominations as applied by Candidate
50
100
RT JCO Exam Syllabus धर्म गुरु लिखित परीक्षा पाठ्यक्रम – CLICK HERE
Medical Standard:- On completion of Physical Fitness Test (PFT) and Physical Measurement Test, medical examination will be carried out by the recruiting medical team. Medical Standard and causes of rejection in medical exam
Physical Standard and Physical Fitness Test RT JCO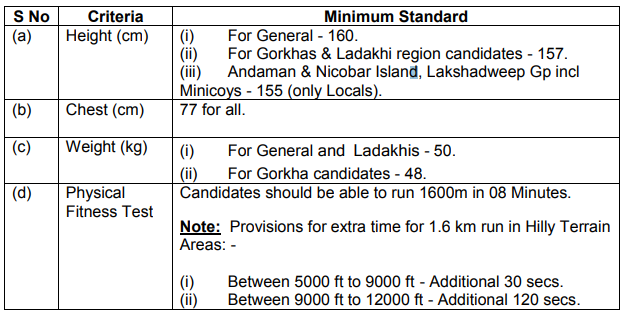 भारतीय सेना, नौसेना, वायुसेना, पुलिस भर्ती प्रोग्राम 2023
JCO RT Indian Army Work Profile:- Generally the Religious Teachers preach religious scriptures to troops and conduct various rituals at Regimental / Unit religious institutions of Indian Army. Their work profile also include attending funerals, ministering to the sick in army hospitals, visiting soldiers undergoing sentence, reading prayers with the convalescents, giving special religious instructions to the children and enlisted boys. They attending generally to the religious institutions and welfare of the Officers, Soldiers and their families.
JCO RT Salary in Indian Army:– Rs 35400 per month in level-6 of pay matrix along with other usual allowances and increments.
Terms and Conditions of Service RT JCO
Junior Commissioned Officer Religious Teacher:– On successful completion of training the candidates will be commissioned as Junior Commissioned Officer, Religious Teachers in the rank of Naib Subedar.
Promotion RT JCO:– All JCOs (Religious Teachers) will become eligible for substantive rank of Subedar/Risaldar on completion of at least 10 years service as religious teachers.
Pay and Allowances:-  The JCO (RT) will be placed at the minimum pay scale of Rs. 9300-34800. In addition they will be entitled to DA and other allowances.
Other Benefits:-  Free accommodation, entitled ration for self, uniform, free medical and leave travel concession for self, family, and dependents, canteen facilities and other allowances as admissible to the regular Army.
Pension/Retirement for RT JCO:-  Normal age of superannuation for JCO (RT) in the rank of Subedar will be 57 years. A Subedar Major (RT) will retire on completion of 4 years of service as Subedar Major or 57 years of age, whichever is earlier.
Notification for RT JCO Bharti 2023
How to Apply for RT JCO/ Online Registration RT JCO:-  Candidates can visit the website  www.joinindianarmy.nic.in for registering online and proceed as follow:-
1.  Firstly you have to read all the instruction for online application registration carefully and then proceed further.
2.  Click on the portion 'Apply Online' on the home page in JCO/ OR enrolment row (green coloured).
3.   Fill the online registration form. Tips to assist in filling up field have been provided as you highlight each field.
4.   After filing the details, Your profile will open.
5.   Click on Apply Online. As per your eligibility, the options with caption Apply Online will appear. Click on the Button to apply and details filled in during registration will come as prefilled.
6.   Fill the balance details on each tab like contact details and education details. After filling the form, click on preview and check if all the information entered by you is correct as you will not be able to make any correction after saving.
7.   On submitting you will receive a Roll Number.
8.   Candidates can log in by using the e-mail id and password and can take the print out of the Application form.
9.   Once the registration closes on the last day, system will generate Admit Cards for eligible candidates.
10.   Applicants are advised to check the profile on www.joinindianarmy.nic.in and their email inbox for their Admit Card and alerts.
11.   The candidates are required to print one copy of Admit Card and affix their recent passport size photograph on it.
Official link www.joinindianarmy.nic.in to check Join Indian Army RT JCO, RT JCO Selection Procedure, JCO RT Bharti Indian Army, JCO Open Recruitment Rally Bharti, JCO Indian Army Bharti, Religious Teacher Army Recruitment Rally Bharti, Sena me dharm shikshak ki bharti, Sena me Dharm Guru ki Bharti, Pandit job in  army, Moulavi job in  army, Padari job in army, Granthi job in army.
Important Notice:– Recruitment is a free service. Army recruitment cannot be influenced by any touts or outsider. Don't give money to touts and do not get involved with them. Any involvement with touts will render your candidature null and void. In case any staff member of ARO or any body else from the Army asking for any monetary gratification should be immediately brought to the notice of the authorities.
Indian Army Rally Bharti Program 2023
| All India Recruitment Program 2023 | Click Below for Complete Job Information |
| --- | --- |
| Gujarat Gram-Sevak Bharti 2023 | Click Here |
| Rajasthan Forest Guard Bharti 2023 | Click Here |
| Gujarat Anganwadi Bharti 2023 | Click Here |
| Indian Navy SSR & AA Recruitment 2023 | Click Here |
| Goa Police Bharti Program 2023 | Click Here |
| Indian Army Bharti New Syllabus 2023 | Click Here |
| Soldier Selection Procedure 2023 | Click Here |
| Military Recruitment Program 2023 | Click Here |
| Indian Air Force Group C Recruitment 2023 | Click Here |
| Indian Navy Sports Quota Bharti Program | Click Here |
| Responsibilities of Zila Sainik Board/ Zila Sainik Welfare Offices | Click Here |
| Para Commando Selection Process 2023 | Click Here |
| UP Helpline Contact Number All Districts | Click Here |
| Military Nursing Service MNS Notification 2023 | Click Here |
| Gujarat Police Recruitment 2023 | Click Here |
| Indian Navy Tradesman Bharti 2023 | Click Here |
| UP Police SI Bharti 2023 | Click Here |
| UP Anganwadi Bharti 2023 Application Form 53000 Post | Click Here |
| | |