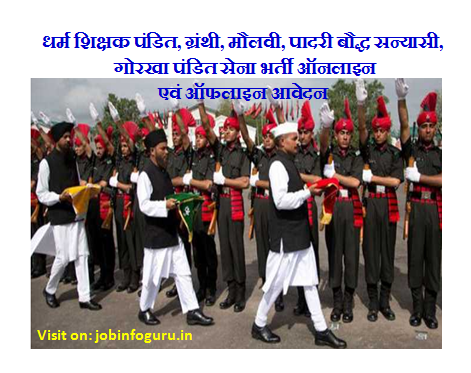 RT JCO Notification RRT Course 2021 Indian Army: Recruitment Rally Notification Indian Army Junior Commissioned Officer (RT JCO) RRT Course 88, 89 and 90. Date of Online application form, admit Card, Eligibility Criteria, Education Qualification, Physical Standard, Height, Weight, Chest, PFT, Medical Exam, Written Exam Syllabus, Interview for RT JCO.  Army Recruitment Open Rally Bharti Program for Dham Shikshak/ Dharm Guru ie Pandit, Maulvi, Granthi, Gorkha Pandit, Bouddh Sanyasi, Padari Rally Bharti 2021.
Religious Teacher JCO (RT JCO) Rally Bharti Program 2021
Date of Online Application:  11-01-2021
Last Date of Application: 22-02=2021
Date of Admit Card:Updating soon
Written Exam: 27-06-2021
Date of Recruitment Rally – As per ZRO Programme
JCO RT  (Dharm Guru)  Army Recruitment Rally Vacancy 2021
Duties of RT JCO & Vacancy, Dharm Shikshak Bharti, Dharm Guru ke karya
RRT Course 91, 92, 93, 94 and 95 JCO RT Vacancy 2021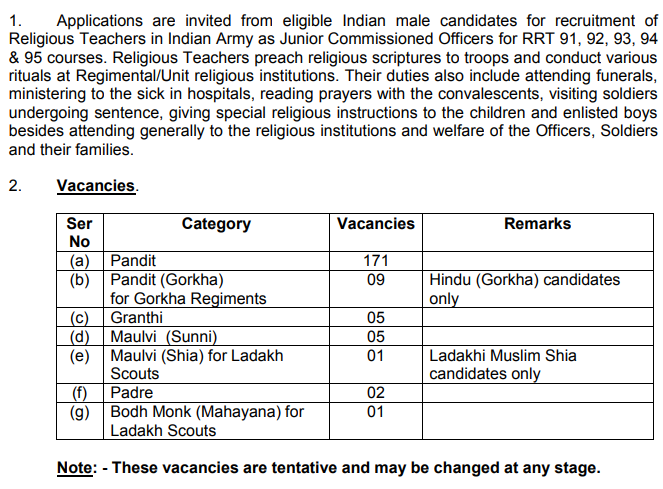 Eligibility Criteria RT JCO
Age Limit RT JCO Indian Army Bharti
Eligibility: All the Eligibility Criteria will be common for In Service and Direct Entry Candidates.
(a) Age Limit. The age bracket in respect of Civilian and In-Service Candidates would not below 25 years of age and not above 34 years of
age on 01 Oct 2021 (i.e. candidates born between 01 Oct 1987 and 30 Sep 1996 inclusive of both dates).
RT JCO Exam Syllabus धर्म गुरु लिखित परीक्षा पाठ्यक्रम – CLICK HERE
Physical Standard and Physical Fitness Test RT JCO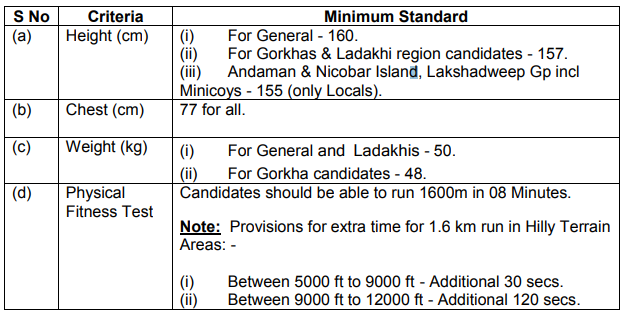 भारतीय सेना, नौसेना, वायुसेना, पुलिस भर्ती प्रोग्राम 2021-2022
RT JCO RRT 91, 92, 93, 94 and 95 Courses Join Indian Army Notification in English/Hindi  – CLICK HERE
NOTIFICATION_FOR_RELIGIOUS_TEACHER__RRT_91_92_93_94_AND_95