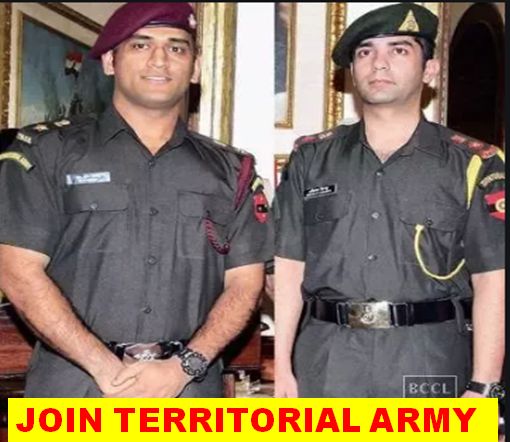 Territorial Army Selection Process/ Recruitment:- The Territorial Army (TA) is the secondary defense forces of the nation after the official regular army. As opposed to the full-time regular army, the Territorial Army comprises the soldiers that serve for a few months annually. The most important information about the Territorial Army services is that this is a part-time commitment towards serving the nation. It is not some full career option for anyone. Territorial Army Officers have to serve for a period of 1-2 months every year. It is not a regular occupation or employment source. So, it is like a part-time side job. Candidates can join the Territorial Army as Officers and Junior Commissioned Officers (JCO). The Territorial Army Officers (Non-Departmental) is done for Ex-Servicemen and Civilians. For Civilians, the recruitment is done for Territorial Army Officers (Non-Departmental).
TA Army Recruitment Trade And Category 
1- TA Soldier General Duty (Sol GD)
2- TA Soldier Clerk and Soldier SKT
3- TA Soldier Clerk Staff Duties
4- TA Soldier Tradesmen Categories 10th Pass
5- TA Soldier Tradesmen categories 8th Pass
6- Ex Servicemen Soldier GD Bharti in TA
7- Ex Servicemen Havildar Recruitment in TA in all categories
8- JCO Ex Servicemen Direct Bharti in TA in various categories
TA Army Recruitment Zone I:-TA Recruitment Program Haryana, Himachal Pradesh, Jammu and Kashmir, Punjab States and the Union Territory of Delhi and Chandigarh of India.
TA Army Recruitment Zone II:- TA Recruitment Program Schedule Bihar, Madhya Pradesh, Orissa, Uttar Pradesh, Uttarakhand, Jharkhand and Chhattisgarh
TA Army Recruitment Zone III:– TA Recruitment Program Schedule Assam, Meghalaya, Manipur, Tripura, Nagaland, Sikkim, West Bengal, Mizoram, Arunachal Pradesh and Andaman & Nicobar Island.
TA Army Recruitment Zone IV:- TA Recruitment Schedule Andhra Pradesh, Gujarat, Kerala, Tamil Nadu, Maharashtra, Rajasthan, Karnataka and the Union Territories of Dadar and Nagar Haveli, GOA, Daman & Diu, Lakshadweep and Pondicherry.
Important Notice:- TA Recruitment Notice, Candidates interested to join Territorial Army are advised to confirm with the authorized notification published by the Unit/AT Army and or confirm Telephonically from TA authorities or TA Recruitment Units/ Agencies/ TA Units Headquarters before proceeding to attend TA Recruitment Rally. Beware of false information about TA Recruitment Rally.
Territorial Army Eligibility Criteria:- Candidates can check below the eligibility criteria for Territorial Army Civilians and Ex-Servicemen posts.
Citizenship:- The candidate should be a citizen of India.
Age Limit for TA:– The candidate should be of an age between 19 and 42 years, on the date of application.
Educational Qualification:- The candidate should at least have done graduation or its equivalent.
Bodily Strength:- The candidate should be both physically and mentally healthy.
Employment Standing:- Gainfully employed.
Not Eligible:- The people who are currently serving in the Regular Army, Navy force, Air Force, Police, GREF (General Reserve Engineer Force), Para Military and other such forces are not allowed to apply for TA.
TA Army Eligibility Criteria for Ex-Servicemen:- Only Ex-Service Officer can apply who are in the age group of 18 to 42 years can apply. Candidates must be a graduate and physically and mentally fit. And Serving member of the Regular Army/ Navy/ Air Force/ Police/ GREF/ Para Military and other forces are not eligible.
उत्तर प्रदेश सचिवालय सहायक भर्ती कार्यक्रम 2023 – Click Here
TA Army Exam Pattern 
Territorial Army Exam Highlights
Exam name
Territorial Army Officers
Conducted by
Territorial Army
Name of posts
Territorial Army (Non-Departmental) for Civilians and Ex-Servicemen
Exam category
Graduation
Exam level
National
Exam stages
Civilians: Screening (Written exam and interview), SSB, Medical Board for final selection
Ex-Servicemen: Interview only
Exam duration
Civilians: 2 hours
Exam type
Civilians: Objective type
Indian Army Soldier New Syllabus Exam Pattern
Civilians:- They can fill the online application form available on the official website. There are three stages to qualify one after the, which are as follows-
1)-Screening stage (Written Exam and Preliminary Interview)
2)- Service Selection Board (SSB) interview
3)-Medical Examination of the physical standard by Military Hospital
Ex-servicemen:- Only Interview
Time of Exam:- Each paper is held for 2 hours (for Civilians only)

Type of Exam:- Objective questions type- OMR based paper (for Civilians only)
| Name of the sections | Marks per section | Marks per Paper | |
| --- | --- | --- | --- |
| Paper-1 | | | |
| Logical Reasoning | 50 | | |
| | | 100 | |
| Elementary Mathematics | 50 | " | |
| Paper-2 | | | |
| GK | 50 | | |
| | | 100 | |
| English Language | 50 | " | |
| | | | |
| | Total marks of the Written Exam | | 200 |
| | Duration of the Exam | | 2 Hours |
| | | | |
Note:-The written exam is only for Civilians. There are two papers, Paper 1 and Paper 2. And, each paper will be of 100 marks. So, in total, the whole written test is of 200 marks.Each paper will be further divided into two parts. Each section of the paper will comprise of 50 questions carrying 50 marks (1 mark per question). 
Doc required for Application of TA Army:- The online form available on the official website of the Territorial Army can be downloaded (free of cost). Then the following details and documents are needed:
1- All educational qualification post matriculation certificates are required.
2- Latest medical physical fitness certificate from a primary health Centre, or any government hospital or any registered MBBS Doctor registered in respective medical council.
3- A copy of Identity proof which has photographs attached to it (Voter ID/PAN Card/Aadhar Card/Passport/Driving license etc).
4- Domicile certificate or any other Residential proof.
5- Certificate for evidence of correct age (Metric/ Senior Secondary mark sheet and certificate for verification of date of birth)
6- The people who are employed in Central Govt/ Union Territory/ State/Semi Govt/ Private Sector Authenticated by Head of office are required to bring Service certificate along with a No Objection Certificate by the department as per format mentioned in the official form.
7- The self-employed candidates have to submit an Affidavit on Non-Judicial stamp paper of minimum value duly attested stating nature of their employment and annual income. This has to be attached with a photocopy of PAN card and self-attested character certificate.
8- A Copy of Release Order. And A Copy of Release Medical Board Proceedings.
9-A Copy of Certificates / Reports of all Courses.
10-Copy of latest Income Tax Return (ITR) filed as a legitimate proof of your income.
TA Army Exam Center:- Jaipur, Pune, Bengaluru, Nagpur, Kolkata, Chandigarh, Siliguri, Guwahati, Hyderabad, Dimapur, Shimla, Jalandhar, Hisar, Lucknow, Udhampur, Patna, Srinagar.
TA Army Vacancies:-The vacancies for the posts (for both male and female) in the Territorial Army are released every year according to the need of the recruitment by the organization.

TA Army Exam Cut Off:-The cut off of Territorial Army will be displayed on the official website of the TA. It slightly varies from year to year as the following factors are taken into consideration:
1)- Number of candidates appearing in the exam.
2)- Difficulty level of exam conducted.
3)-Total vacancies for the particular year.
TA Army Salary Structure:- The rank pay, entitlement to medals and honors, allowances, and several service benefits to the Territorial Army are provided as applicable in the case of the Regular Army.TA officers are also entitled to TA Decoration after completing 20 years. In fact, if the candidates do well and fulfill the required eligibility conditions, they can be promoted to the military rank of Lieutenant Colonel. Officers commissioned in Infantry TA may be called for the military for a longer duration depending on the requirement.
TA Army Pension:- Officers with 20 years and (JCO) and other ranks with 15 years are given Pension.
Note:-If you are planning to appear for TA, then prepare with all your heart. There is no other job that will satisfy all your desires of having a challenging, adventurous, social status, prestige and quality of life. And, the pride, status, honour you will feel while wearing the uniform for your fellow countrymen has no other match. Good luck for your journey towards serving the nation!
Indian Army Rally Bharti Program 2023
| All India Recruitment Program 2023 | Click Below for Complete Job Information |
| --- | --- |
| UHQ Quota Relation Rally 2023 | Click Here |
| TA Bharti Program 2023-2024 | Click Here |
| Gujarat Gram-Sevak Bharti 2023 | Click Here |
| Rajasthan Forest Guard Bharti 2023 | Click Here |
| Gujarat Anganwadi Bharti 2023 | Click Here |
| Indian Navy SSR & AA Recruitment 2023 | Click Here |
| Goa Police Bharti Program 2023 | Click Here |
| Indian Army Bharti New Syllabus 2023 | Click Here |
| Soldier Selection Procedure 2023 | Click Here |
| Military Recruitment Program 2023 | Click Here |
| Indian Air Force Group C Recruitment 2023 | Click Here |
| Indian Navy Sports Quota Bharti Program | Click Here |
| Responsibilities of Zila Sainik Board/ Zila Sainik Welfare Offices | Click Here |
| Para Commando Selection Process 2023 | Click Here |
| UP Helpline Contact Number All Districts | Click Here |
| Military Nursing Service MNS Notification 2023 | Click Here |
| Gujarat Police Recruitment 2023 | Click Here |
| Indian Navy Tradesman Bharti 2023 | Click Here |
| UP Police SI Bharti 2023 | Click Here |
| UP Anganwadi Bharti 2023 Application Form 53000 Post | Click Here |
| | |