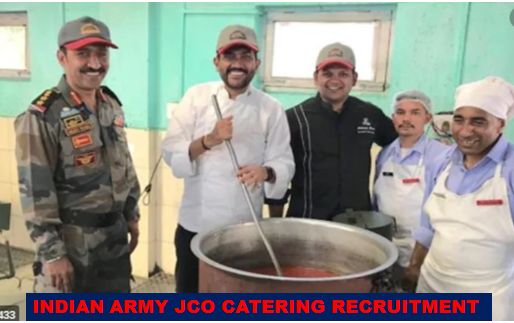 JCO Catering Selection Process/ Recruitment:-The Indian Army consist various arms divisions and services. Among these catering service is one. For the recruitment of JCO (Catering), Indian Army conducts an exam namely Junior Commissioned Officers (Catering) Exam. The examination is held four times a year and is advertised in the Employment News and leading newspapers.
Catering JCO Eligibility criteria 
Educational Qualification:-Intermediate/HSC/10+2 with diploma /certificate course of a duration of year or more in cookery /hotel management and technology from a recognized university food craft institute.
Age:- Age for recruitment of Catering JCO in the army should be between 21 to 27 years.
Physical Standard JCO Catering
Physical Standards and Eligibility:- In order to recruit the best candidates, there are sets of physical standards formed by the Indian Army. The physical criteria are as follows.
(a)- The Height:-Criteria for different states and districts are different. This criterion can be relaxed according to the region of the candidates and mostly for Gorkha candidates. See the below table for more information.
(b)- Minimum chest:- Chest required is 77 cm, and plus 5 cm after expansion.
(c)- The Weight:- The weight of the candidates should be in proportion with his height & according to his age.
Indian Army Soldier GD Eligibility Height, Chest, and Weight requirements:- 
Indian States and UTs
Height
Chest in cms
Weight in Kg
All states/UT
Arunachal Pradesh, Manipur, Sikkim, Nagaland, Tripura, Mizoram, Meghalaya, Assam and Hill Region of West Bengal Gangtok, Darjeeling and Kalimpong Districts)
160
77-82
48
Jammu & Kashmir, Himachal Pradesh, Punjab Hill (Area South and West of the Inter State Border between Himachal Pradesh and Punjab and North and East of Road Mukerian, Hoshiarpur, Garh Shankar and Ropar), Garhwal and Kumaon (Uttrakhand)
163

77-82
48
Andhra Pradesh, Karnataka, Tamil Nadu, Kerala, Goa and Puducherry
166
77-82
50
Punjab, Haryana, Chandigarh, Delhi, Rajasthan and Western Uttar Pradesh (Meerut and Agara Division)
170

77-82
50
Eastern Uttar Pradesh, Bihar, West Bengal Jharkhand and Orissa
169

77-82
50
Madhya Pradesh, Chattisgarh, Gujarat, Maharashtra, Dadar, Nagar, Haveli, Daman and Diu

168
77/ 76*
*STA

50
Adivasi Candidates (Tribals of Recognized Tribal Areas)
162
77-82
48
Military Police
173
77-82
50
The Brigade of Guards
173
77-82
50
Medium Artillery
170
77-82
50
Ladakhi
157
77-82
50
Gorkhas Candidates both Nepalese and Indian
160
77-82
48
Settlers
165
77-82
50
Local
155
77-82
50
Relaxation in Physical Standard for Indian Army Recruitment Rally
सेना में भर्ती होने के लिए शारीरिक मानकों में छूट
Physical Standard Relaxation in Army Recruitment
Category
Height
(Cms)

Weight
(Kgs)

Chest
(Cms)
Son of servicemen/ Son of Ex-Servicemen/ Son of War Widow/ Son of Widow.
02
02
01
Adopted son/ son-in-law (if she has no son) of a War Widows of Army.
02

02
01
Sportsmen who have represented India at International level, or State at National level.

02
05

03
Sportsmen who have represented District at State level and University
or Regional team at State/ National level and secured 1st or 2nd position.

02
05
03
The above are the physical needed for a candidate to qualify for Army SOL GD. These standards are decided by the Indian Army and no relaxation is given based on caste or category.
Online Application:- On receipt of notification from army recruitment authorities for recruitment of JCO Catering in the army, Online Registration are required to be done through www.joinindianarmy.nic.in.  Admit card for recruitment of Catering JCO may be downloaded through army site in which initial screening details of the candidates will be given.
Screening & Checking of Documents:- This includes checking of original education certificates Physical examination and medical examination .The screened candidates are put through written examination.
Medical Standards:- A candidate should have robust physique and mental health, chest should be well developed having minimum 5 cm expansion, should have normal hearing with each ear. Should have sufficient number of natural health gum and teeth i.e. 14 dental points.Should have no diseases like deformity of bones, hydrocele, varicose veins or piles. Re mustering candidates should be in medical category SHAPE-1 in terms of Special Army Order 6/S/2005/Rtg dated 05 Aug 2005 as amended from time to time.
Written Examination JCO Catering:- Written examination of selected candidates will be conducted at HQ Recruiting Zone. The following subjects will cover technical aspects of catering for testing the knowledge of candidates for recruits. Paper may be answered either in Hindi or in English:-
(a)- Cooking method.
(b)- Food Preparation.
(c)–  Selection and storage of food.
(d)-  Hygiene and sanitation of cook house.
(e)–  Personal hygiene.
(f)–   Safety measure of liquefied petroleum Gas (LPG).
(g)–  Menu planning.
(h)–  Balanced diet for adult.
(j)–   Food colors.
(k)–  Ingredients.
(l)–  Recipes of Indian, Chinese and Continental Dishes.
(m)– Kitchen equipment and types of chullhas
(n)– Files and anti fly measures.
(o)- Tinned and dehydrated food stuffs.
(p)- Bread making.
Catering JCO Interview:- Successful candidates will be interviewed at ASC Centre (South) Bangalore for candidates selected from South Zone and ASC centre (North) Gaya for candidate selected from North Eastern, Western and Central Zones.
Final Selection JCO Catering:–  Final selection will be done by a Board of officers and selected candidates will be sent to Training center for Basic Military Training.
Important Notice:– Recruitment is a free service. Army recruitment cannot be influenced by any touts or outsider. Don't give money to touts and do not get involved with them. Any involvement with touts will render your candidature null and void. In case any staff member of ARO or any body else from the Army asking for any monetary gratification should be immediately brought to the notice of the authorities.
Indian Army Rally Bharti Program 2021
Indian Army Recruitment Program 2021-2022
Indian Army Bharti New Syllabus 2021-2022
Click Here
Soldier Selection Procedure 2021-2022
Click Here
Military Recruitment Program 2021-2022
Click Here
Indian Air Force Group C Recruitment 2021-2022
Click Here
Indian Navy Sports Quota Bharti Program
Click Here
Indian Army JAG Entry Scheme 2021-2022
Click Here
Responsibilities of Zila Sainik Board/ Zila Sainik Welfare Offices
Click Here
Para Commando Selection Process 2021
Click Here
UP Helpline Contact Number All Districts
Click Here
Military Nursing Service MNS Notification 2021
Click Here
MES Draughtsman & Supervisor Recruitment 2021
Click Here
RPSC Rajasthan SI & Platoon Commander Recruitment 2021
Click Here
Gujarat Police Recruitment 2021
Click Here
Bihar Police Fireman Recruitment 2021
Click Here
Indian Army 10+2 (TES-46 Jan 2022) Recruitment 2021-2022
Click Here
Indian Navy Tradesman Bharti 2021
Click Here
HAL ITI Trade Apprentice Recruitment 2021
Click Here
Indian Army TGC 133 Recruitment 2021
Click Here
Indian Army 10+2 TES 45 Entry Scheme 2021
Click Here
UP Police SI Bharti 2021
Click Here