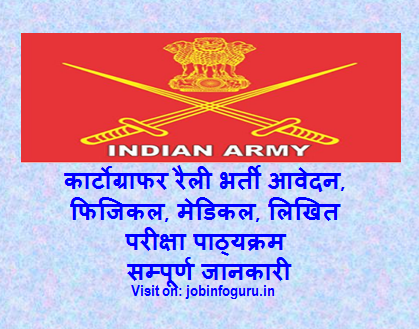 Indian Army Hav SAC Selection Procedure:- Indian Army Board invited all eligible candidates for recruitment as a Havildar Survey Automated Cartographer Post. Surveyor Automated Cartographer are directly recruited as Havildar in to the corps of engineers. The duties of SAC include the advancement in the field of Digital Cartography, GIS and also the integration of GIS enabled Decision Support Systems as force multipliers in the Indian Army.
Important Dates for Surveyor Hav SAC Recruitment Rally Program 2022
| Hav Auto Cartographer Recruitment 2022 | Rally Programme Indian Army |
| --- | --- |
| Date of Online Application | Updated soon(mention on your admit card) |
| Admit Card Date | Updated soon |
| Written Exam Date | Updated soon |
| Place of Recruitment Rally Bharti | As per Rally program of ZRO/ Admit Card HQ Rtg Zone |
| Trade/ Category | Surveyor Havildar SAC |
| | |
Eligibility Criteria SAC Havildar
Age Limit: 20 to 25 Years:- Age for recruitment of Hav Surveyor Must not be below 20 years or over 25 years.
Civilian Candidates: The age limit in respect of civilian candidates would not be below 20 years of age and not above 25 years of age on 01 Oct 2019 (i.e candidates born between 01 Oct 1994 to 01 Oct 1999 inclusive of both dates).
Service Candidates: The age limit in respect of In-Service candidates would not be above 28 years of age as on 01 Oct 2019 (i.e candidates born between 01 Oct 1991 to 01 Oct 1999 inclusive of both dates).
Educational Qualifications:- Minimum qualification for candidates is BA/B.Sc with Mathematics and having passed 12th Class (10+2).
OR
Equivalent with Physics, Chemistry, and Mathematics as main subjects from a Recognized Board. The eligibility criteria are common for In-service and Direct Entry candidates.
शैक्षिक योग्यता:- हवलदार सर्वेयर उम्मीदवार को मान्यता प्राप्त विश्वविद्यालय/शिक्षा बोर्ड द्वारा मैथमेटिक्स (गणित) के साथ बीए / बीकॉम / बी एससी / BE / बीटेक डिग्री होना चाहिए तथा 12 वीं कक्षा (10 + 2) में भौतिक विज्ञान, रसायन विज्ञान और गणित मुख्य विषय के साथ उत्तीर्ण होना आवश्यक है।
Selection Process, Physical and Exam Pattern:- Havildar Surveyor Automated Cartographer Selection process will consist of screening (checking of Doc, PFT and Med examination ) and written exam, which will be conducted at respective Headquarters Recruiting Zone.
Physical Standards:- Minimum physical standards will be as under depending upon the region of the country (details can be obtained from the nearest HQ Recruiting Zone/Army Recruitment Office/IRO, Delhi Cantt): –
Physical Standard Surveyor Automated Cartographer in Engr Corps
Region
Height cms
Weight (Kg)
Chest (Cms)
Western Himalayan
163
48
77
Eastern Himalayan
160
48
77
Western Plains
170
50
77
Eastern Plains
169
50
77
Central Plains
168
50
77
Southern Plains
166
50
77
Andaman and Nicobar Islands, Lakshadweep Group including Minicoy
Settlers
165
50
77
Locals
155
50
77
Physical Fitness Test:- The physical eligibility for different region and state is different. It is possible that a candidate is physically eligible for one state or region and to be sure that he check his physical eligibility as per his state and then apply for the bharti.
Following are the physical standards for different region 
Indian States and UTs
Height
Chest in cms
Weight in Kg
All states/UT
Agniveer Sena Rally Programme 2022-2023
Click Here
Agniveer Physical Arunachal Pradesh, Manipur, Sikkim, Nagaland, Tripura, Mizoram, Meghalaya, Assam and Hill Region of West Bengal Gangtok, Darjeeling and Kalimpong Districts)
160
77-82
48
Agniveer Physical Jammu & Kashmir, Himachal Pradesh, Punjab Hill (Area South and West of the Inter State Border between Himachal Pradesh and Punjab and North and East of Road Mukerian, Hoshiarpur, Garh Shankar and Ropar), Garhwal and Kumaon (Uttrakhand)
163

77-82
48
Agniveer Physical Andhra Pradesh, Karnataka, Tamil Nadu, Kerala, Goa and Puducherry
166
77-82
50
Agniveer Physical Punjab, Haryana, Chandigarh, Delhi, Rajasthan and Western Uttar Pradesh (Meerut and Agara Division)
170

77-82
50
Agniveer Physical Eastern Uttar Pradesh, Bihar, West Bengal Jharkhand and Orissa
169

77-82
50
Agniveer Physical Madhya Pradesh, Chattisgarh, Gujarat, Maharashtra, Dadar, Nagar, Haveli, Daman and Diu

168
77/ 76*
*STA

50
Agniveer Physical Adivasi Candidates (Tribals of Recognized Tribal Areas)
162
77-82
48
Agniveer Physical Military Police
173
77-82
50
The Brigade of Guards
173
77-82
50
Medium Artillery
170
77-82
50
Agniveer Physical Ladakhi
157
77-82
50
Agniveer Physical Gorkhas Candidates both Nepalese and Indian
160
77-82
48
Agniveer Physical Settlers
165
77-82
50
Agniveer Physical Local
155
77-82
50
1)- 1.6 Km or 1600 Meter or 1 Mile Run:- Candidates are divided into groups and there is no fixed pattern that how many candidates will be there in one group. Most candidates try to reach the Bharti ground as soon as possible so that they could get the benefit of standing in the front row of the group. So one should always try to be in the front row of the group to get a better start in the race.
a)-60 Full Marks Group I:- Candidates completing 1.6 km race/run within 5 minutes and 30 second will get full 60 marks in Group I.
b)-48 Marks for Group II:– Candidates completing 1600 meter race within 5 minutes and 45 second will get full 48 marks in Group II.
2)-  Pull Ups:- Right after the race, there comes a pull-ups round. This round is to test the strength of a candidate, and they are not like normal pull-ups, you will need to come up and go down on their instructions which will automatically make it difficult. As per the standards, a candidate has to do at least 6 pull-ups in order to qualify for the next round. The more pull-ups you do, the better it will be. The maximum limit will be 10.
3)- Chest Measurement:- After pull-ups, the Chest measurement is done. Firstly, a candidate should satisfy the above-given standards of the chest. If he fails to do so then he will be disqualified. At least there should be an expansion of 5 cm in the chest, else the candidate will be disqualified.
4)- Zig-zag Balance:- The balancing round is done to test the agility of a candidate. You will be asked to walk or run slowly on a zig-zag stand. You have to complete it without falling to qualify this round. The zig-zag balance should qualify and no marks are awarded for it.
5)- 9 Feet Ditch:- In this round, a candidate will have to cross a 9 feet long ditch by jumping over it. This round is done to test the courage of a candidate. Candidates have to cross the ditch without falling on it. This is the final round of the Physical Fitness Test. This has to qualify and no marks are awarded.

Written Examination Syllabus:- Selected candidates in physical and medical will go for the written exam round. A written Exam will be conducted in 2022. Written Exam will contain objective type questions and exam pattern is:-

Paper
Pass Marks
Max Marks
Total Questions
Marks Per Question
Negative Marks
Paper-1 (Mathematics)
40
100
50
2
0.5
Paper-2 (Physics& Chemistry)

40
100
50
2
0.5
NOTE:- Candidate has to score min of 40 marks each in Paper 1 and Paper 2 separately. No bonus marks is entitled to son of Serving/Ex-servicemen/War Widow/Widow and Sportsmen/NCC/Computer certificate holders.
Question papers:- Question papers will be bilingual and i.e. in Hindi and English. These will comprise objective and short answer types of questions and provided with sufficient blank space to answer/ solve these questions. The question papers can be answered in Hindi of English only. SAC Army Rally Bharti online registration.
Indian Army Soldier New Syllabus Exam Pattern
Admit Card, Documents, Medical Exam, Screening: Candidates found eligible will be issued with Admit Card for initial screening which will include checking of original certificate, physical fitness test followed by medical examination at respective Headquarters Recruiting Zone.
Written Examination: Screened candidates will be put through written examination which will be conducted on  2022. The written examination will contain objective type of questions and comprise of two papers as follows:-
हवलदार सर्वेयर लिखित परीक्षा पाठ्यक्रम 
Subjects & Topics Soldier
SAC Exam (CEE)
No of
Questions

Marks
Allotted

Marks per
Question
Negative
Marks
PART-I SECTION A

Mathematics
गणित
50

100
02
-0.5
PART-II SECTION B

Physics
भौतिक विज्ञान

25

50
02
-0.5
Chemistry
रसायन विज्ञान
25

50
02
-0.5
Total
100

*200 Marks

Pass Marks
*Minimum 40 marks
in Part-I and
40 marks
in Part-II

Indian Army Notification Hav SAC in Hindi and English – Click Here
Important Notice:– Recruitment is a free service. Army recruitment cannot be influenced by any touts or outsider. Don't give money to touts and do not get involved with them. Any involvement with touts will render your candidature null and void. In case any staff member of ARO or any body else from the Army asking for any monetary gratification should be immediately brought to the notice of the authorities.
Indian Army Rally Bharti Program 2022
| All India Recruitment Program 2023 | Click Below for Complete Job Information |
| --- | --- |
| Gujarat Gram-Sevak Bharti 2023 | Click Here |
| Rajasthan Forest Guard Bharti 2023 | Click Here |
| Gujarat Anganwadi Bharti 2023 | Click Here |
| Indian Navy SSR & AA Recruitment 2023 | Click Here |
| Goa Police Bharti Program 2023 | Click Here |
| Indian Army Bharti New Syllabus 2023 | Click Here |
| Soldier Selection Procedure 2023 | Click Here |
| Military Recruitment Program 2023 | Click Here |
| Indian Air Force Group C Recruitment 2023 | Click Here |
| Indian Navy Sports Quota Bharti Program | Click Here |
| Responsibilities of Zila Sainik Board/ Zila Sainik Welfare Offices | Click Here |
| Para Commando Selection Process 2023 | Click Here |
| UP Helpline Contact Number All Districts | Click Here |
| Military Nursing Service MNS Notification 2023 | Click Here |
| Gujarat Police Recruitment 2023 | Click Here |
| Indian Navy Tradesman Bharti 2023 | Click Here |
| UP Police SI Bharti 2023 | Click Here |
| UP Anganwadi Bharti 2023 Application Form 53000 Post | Click Here |
| | |
Latest State wise/ All India Govt & Civil Jobs Vacancy  2022
Indian Army Rally Bharti Program 2022