GLORIOUS AND GRAND STORY OF BAGHPAT
(Baghpat)
Baghpat's Pride: Bharatvarsha boasts of its glorious history with its diversities, historically Baghpat's past has been extremely glorious and glorious. Baghpat has its own special place from the archaeological, historical, cultural, geographical and industrial point of view. The ancient heritage of Hindu-Muslim communal harmony, spiritual, Vedic, mythological, education, culture, music, art, beautiful buildings, religious, temples, mosques, historical fortifications, glorious cultural arts, etc have been in their own right from the earliest. The history of origin of Baghpat is as follows. To date information of Baghpat in history.
Baghpat (Uttar Pradesh): Baghpat is a district in the Indian state of Uttar Pradesh. Baghpat is a city in NCR and a municipal board in Baghpat district in western Uttar Pradesh, India. Baghpat district is a part of the National Capital Territory of India due to its proximity to Delhi. It is also a well-known Lok Sabha constituency. Bagpat district is a district of Meerut division of Uttar Pradesh, which was formed in 1997, the headquarters of Baghpat district is in Baghpat Nagar. The three tehsils in Baghpat district are Sadar, Barout, Khekra. Baghpat district is the district with the lowest number of families below the poverty line.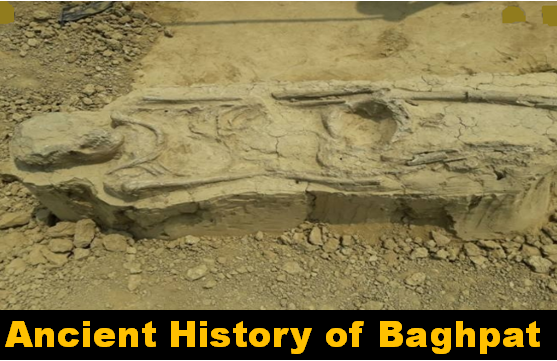 Ancient History of Baghpat: History of Baghpat knows back to ancient times, according to popular beliefs, Baghpat was founded by the Pandava brothers of Mahabharata, originally it was known as Vyagraprastha (Vyagraprakash of Sanskrit language, Little "Tigerish"). Because (the tiger population was found many centuries ago) and Baghpat was one of the five villages that the Pandavas demanded from Duryodhana to compromise before the Mahabharata war. Barnava, near Barout, is the site of the wax-fired Lakshagraha Mahal, which was built by Duryodhana's minister Purochan to kill the Pandavas.
'अविस्थलंवृकस्थलं माकन्दी वारणावतम्, अवसानं भवेत्वत्र किंचिदेकं तु पंचमम्।'
Baghpat District Establishment: Baghpat district was established in 1997, before that Baghpat was a tehsil in Meerut district. The name of the city comes from the Hindi word for tiger (tiger).
Baghpat condition: Baghpat district is located on the banks of river Yamuna, 28० 57 'North latitude and 77० 13' East longitude. The district is in the north of Baghpat in the district Muzaffarnagar, in the south district Ghaziabad, in the western Yamuna River and in the district Rohtak of Haryana. The district Baghpat is rectangular in shape, the area being more from north to south than east to west. Baghpat district is 52 km from Meerut city and is located on the main Delhi Saharanpur highway, about 40 km north of Delhi.
Baghpat named How: district name on Baghpat town, which "Wyagprsth" (ie lions location) and is believed to originate from the other words in the Sanskrit language "Wakyprsth" according Kthao (ie place of speaking). The city was eventually renamed Baghpat during the Mughal period. There used to be a small market in Baghpat.
The surname of Baghpat: Land of Tigers is the surname of Baghpat.
Baghpat after the Revolt of 1857 during the Mughal period: When Mughal rule started after the revolution of independence movement, Baghpat district got its importance and it was established as the headquarters of Tehsil Baghpat. Baghpat first became a tehsil center and then gradually increased. At that time Baghpat was part of Meerut district. The city of Baghpat was formerly a small town and a small trading center known as Mandi. It was founded by Jabita Khan, son of Ruhela Chief of Mandi Najib Khan and the main business activity of the people living in the area has been jaggery and sugar. In addition, there are some units involved in the manufacture of footwear and agricultural equipment.
Sinauli of Baghpat is associated with the history of Mahabharata period: Vyagaprastha which the Pandavas to asked for Duryodhana during Mahabharata period. This is the reason why Baghpat is seen to be associated with the history of Mahabharata. Evidence of Mahabharata is also found in Baghpat. From Barnava to Sinauli, the history of Mahabharata comes out repeatedly from the womb of the earth, and narrates the saga of its history with the tongue of the people.
Archaeological evidence Baghpat: The Archaeological Survey of India was buried under the 4000-year-old royal coffin, sacred chamber, lentils and rice pots, tools, crowns, swords and humans under the ground here at the Archaeological Department in Baghpat district of Uttar Pradesh. The bones of animals have been found. Archaeological department has also found the bodies of wild boar and nevle near the tombs here. It can be understood from these bodies that animals were sacrificed here.
Baghpat District Sinauli: 125 graves belonging to the Indus Valley Civilization were found from here. Skeletons have also been found during excavations at Rakhigarhi, Kalibanga and Lothal, the principal sites of the Indus Valley Civilization. The tombs found here are said to be dated to 2200–1800 BC.
Sinauli excavated in 2005: When excavation work started in Baghpat Sinauli, 60 graves were found here. This was not found anywhere in the Indian subcontinent. During the excavation in January 2018, two chariots, soles and shields were found. It is estimated that there used to be an army of warriors here. The soles, shields, and helmets used in the chariot war are said to have been found in Mesopotamia and other cultures around 2000 BC. The remains of a horse skeleton have also been found here around 2006 BCE. DNA of skeletons found here is being traced.
Director of ASI Institute of Archeology, Dr. S. According to K Manjul: ASI has found the remains of many of the oldest civilizations of the Mahabharata period in Sanauli. Excavation was started here in January 2018, in which they found two chariots, royal coffins, swords, crowns, shields, which proved that the soldiers used to live here about 2,000 years ago. They point out that this burial must have belonged to the royal family.
Evidence of Harappan Civilization Baghpat District: Dr. S. K Manjul said that the remains of Harappan civilization have also been recovered here. Looking at these relics, it seems that these were one of the most developed times of the Harappan civilization. These remains will make it easy to understand how the Harappan culture developed along the banks of the Ganges and the Yamuna river. Along with this, copper swords, shields, crowns, chariots have also been found in the excavation here. Also, rice and urad dal were also found in the pot here.
Major rivers of Baghpat district: Yamuna, Hindon and Krishna rivers are the main rivers of Baghpat district.
Places to visit in Baghpat: There are many mythological, religious, archaeological and historically significant places in this district. Tourist places in Baghpat, Tourist places in Baghpat, Baghpat Tourist Place, Baghpat Attractions, Baghpat also has various markets and beautiful places to visit, this Lakshgriha described in the district Mahabharata, the ancient Pura Mahadev Temple and the Digambar Jain Temple located in Baragaon Is famous for Without seeing them, a trip to Baghpat are incomplete. In this article, we will tell about these beautiful scenic spots of Baghpat.
What is the place to see in Baghpat?
Trilok teertha dham
Shree Parshwanath Temple
Pura Mahadev (Parashurameshwar Temple)
Gufa wale Baba Temple
Nag Baba Temple
Balmiki Ashram
Kali Singh Baba Temple
Shikwa Haveli
Lakshagraha
Digambar Jain Temple
Key Word: Baghpat parichay, Baghpat ki sthapana, Baghpat ka vaidik itihas, Baghpat ki katha, Baghpat ka itihas, Baghpat history in hindi, Baghpat famous for, village list of Baghpat, Baghpat fort, Baghpat famous food, Baghpat population, baghpat district, population 2020, baghpat history in hindi, yadav population in baghpat, baghpat direction, population of baghpat district.
बागपत की ताजा खबर। बागपत दर्शनीय स्थल। बागपत का नया नाम क्या है। बागपत का राजा कौन था। बागपत किस राज्य में स्थित है। बागपत जिला नक्शा। बागपत सांसद नाम। बागपत जिला के समाचार। बागपत में कितनी नदियां हैं। बागपत के गांव के नाम। बागपत का प्राचीन इतिहास। बागपत में कुल कितने ब्लॉक हैं। बागपत के बारे में। बागपत की तहसील। बागपत का नया नाम क्या है। बागपत जिले में कितने गांव हैं। बागपत जिले का इतिहास 1857 baghpat district. बागपत जिले के गांव की लिस्ट। बागपत जिले का नक्शा। बागपत जिले के गांव के नाम।