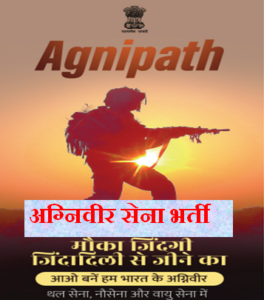 आर्मी भर्ती विशेष सूचना:
Agniveer Army Recruitment Rally Notice 2023. अग्निवीर आर्मी भर्ती नोटिस.  पूर्व सेना भर्ती प्रक्रिया निरस्त. अग्निपथ सेना भर्ती योजना के लागू होने के कारण पिछले वर्षों में भारतीय सेना भर्ती की सभी भर्ती प्रक्रियाएँ, सामान्य प्रवेश परीक्षा सहित (Including Common Entrance Examination) निरश्त की जाती हैं। सभी अग्निवीर सेना भर्ती के पात्र उम्मीदवारों से अनुरोध है कि वे अग्निपथ योजना के माध्यम से अग्निवीर भर्ती के लिए आवेदन करें।
Army Recruitment Rally Agniveer Notice for Candidates:-
NOTICE
Notice 1. Candidates are advised to check their age & education criteria before applying for Army Aniveer recruitment rally.
Notice 2. Certificates with overwriting / tempering will not be accepted at rally site.
Notice 3. Candidates appear in the recruitment rally at their own risk. No compensation for Death/ Injury / Loss etc is admissible.
Notice 4. Do not use performance enhancing drugs during physical tests. Drug test will be conducted during recruitment rally. Candidates
having found to have used the same will be debarred from further screening Army Aniveer recruitment rally.
Notice 5. Permanent body tattoos are only permitted on inner face of forearms i.e. from inside of elbow to the wrist and on the reverse side of palm / back (dorsal) side of hand. Permanent body tattoos on any other part of the body are not acceptable.
Notice 6. Mobile Phones are not permitted in the Army Aniveer recruitment rally site.
Notice 7. Recruitment into the Army is a free service. Candidates are advised not to pay bribe to anyone for recruitment as selection is purely on merit.
Notice 8. Do not waste your money on touts. Recruiting process has been computerised and touts cannot do anything. Have faith in your
transparent and purely based on merit.
Notice 9. Giving / taking bribe, production of bogus / fake certificates and indulging in unfair means is a criminal offence and liable for
punishment under law.
Notice 10. Candidates are advised in their own interest to undergo medical exam before coming for selection especially with respect to flat
foot, poor vision, deformities and physical measurements. All are advised to ensure that their ears are free of wax by getting it cleaned by a doctor prior to the rally.
Notice 11. All candidates to carry Masks, gloves and hand sanitizer.
Notice 12. Kindly also carry rain coat to cater for rains during Monsoon.
Notice 13. Certificates of Bonus Marks. All original certificates / photocopies duly attested pertaining to Bonus marks/Relaxation will be
accepted only during the Rally. No certificates to include NCC Certificates, Relationship Certificates, 'O' level (IT) Course (DOEACC), ITI Course certificate for Agniveer (Technical) any other certificates to claim Bonus Marks / Relaxation would be accepted after termination of the Rally.
Notice 14. Please ensure that your online application has been submitted. There is difference between saving and submitting. A submitted
document will reflect in your application history.
Authority for Cancellation of Indian Army Recruitment Rally :  www.joinindianarmy.nic.in
अग्निवीर आर्मी भर्ती नोटिस 2023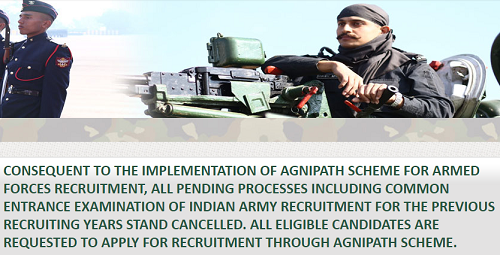 Cancellation of Indian Army Recruitment Rally 
Agniveer Army Recruitment Importance Notice 2023:
Cancellation of Previous Army Recruitment Process: Consequent to the implementation of Agnipath Scheme for Armed Forces Recruitment, all pending processes including Common Entrance Examination of Indian Army Recruitment for the previous Recruiting Years stand cancelled. All eligible candidates are requested to apply for recruitment through Agnipath Scheme.
FAQ
Questions Answer: Clarification on previous army recruitment rally
Question: Jo candidate pahle army rally  bharti me avedan kr chuke hain unka kya hoga?
Ans: Agniveer sena rally ke liye dubara avedan karna hoga.
Question: Army Rally Physical jin ummeedvaron ka ho gaya hai kya unka selection hoga?
Ans:  Agniveer Sena rally bharti me pahle ka physical nahi mana jayega.
Question: What about those candidates who have already given army exam?
Ans: Agniveer Sena Bharti ke liye dubara pariksha hogi.
Question: Agniveer Army bharti  yojna me avedan dubara krna hoga kya?
Ans: Agnipath yojana ke lagu hone se sabhi sena rally bharti radd mani jayegi.
Agniveer candidates fresh application register karen.